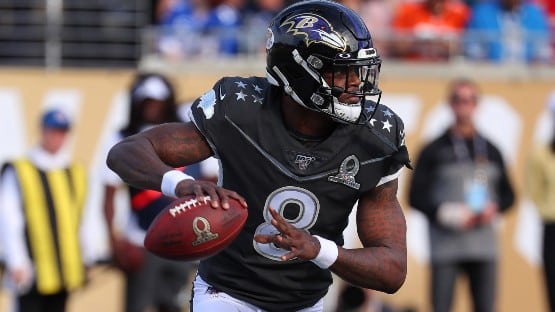 The offseason for the Baltimore Ravens came on Monday with one question looming over the franchise, and quite possibly the NFL as well: will Lamar Jackson be back in 2023?
If the Ravens' locker room has a say, Jackson will be the Baltimore quarterback next year and beyond.
Jackson, a pending free agent, has been silent since early December, and he was MIA during the locker room clean-out window Monday.
But his teammates had plenty to say.
"I hope that he's going to be back," said tight end Mark Andrews on WBAL's Monday evening "Ravens Report."
Andrews, who arrived in Baltimore in 2019, went on to add, "that's my guy. I have nothing but love and respect for No. 8 as a person, as a player and as a friend. So, yeah, I love the guy. So, I hope he's back."
Offensive lineman Morgan Moses didn't mince words: "can't let a player of his talent go," said Moses.
And the support for Jackson appears team-wide. Left tackle Ronnie Stanley said this: "Lamar's a competitor, and he wants to win. This is his team, this is his offense, this is his town."
Raven Nation echoes the sentiments of Jackson's teammates.
The overwhelming feeling among callers to Monday's program was that the Ravens should have wrapped up Jackson before preseason began. One caller compared not signing Jackson to a long-term extension like if the Orioles had allowed Cal Ripken walk after his initial rookie contract.
So, less than 24 hours after an agonizing 24-17 season-ending loss to the Cincinnati Bengals, Jackson's teammates and fans have spoken loud and clear: sign Lamar Jackson.
And here's why they are wrong.
First, I must write this, I am a Lamar Jackson fan. I have a personally autographed photo of Jackson in my sports room. I spent summers in Baltimore watching my Orioles play. Johnny Unitas was my first childhood sports hero. I understand what Lamar means to Baltimore.
That said, it's time to stop the experiment.
Now that I have come to grips that the season is over, the Ravens should begin to move away from the run-first offense that was orchestrated by offensive coordinator Greg Roman.
A couple of seasons ago, Ravens coach John Harbaugh described the offense as "revolutionary." It was, for about half a season. Until the sophistication of NFL defenses figured it out to be a gimmick.
Sunday night's loss to the Bengals proved one thing to me: the Ravens can go wire-to-wire with one of the best and hottest teams in the NFL without Jackson.
OK, I'll admit this, If Jackson had played, the Ravens likely would have walked out of Paycor Stadium the winner.
But Lamar didn't play; instead he was back in his home watching the game. The fact is this, the last two years, down the stretch Jackson has been a no-go.
Jackson missed the final four games of the 2021 season with an ankle injury, and missed the final six games this season with a knee sprain. The scuttlebutt is that Jackson didn't return because of the team failing to sign him before his self-imposed Week 1 deadline.
Despite the support of his teammates, the Ravens played Sunday evening like they were out to prove they could play and win without Jackson. And they nearly did.
Baltimore out-hit, outplayed and outgained the Bengals. One disastrous play may have been the difference in the Ravens gaining a huge win. Would the Ravens win Sunday have proved the point? Very possibly.
The counterpoint to moving on from Jackson is that Baltimore would be rebuilding, and completely changing offensive strategies. Both are true.
But in the salary cap NFL, rebuilds can happen in one offseason. And this is Baltimore, where the fans are going to be in the seats every game, and they will support the Ravens, even in a rebuilding process.
Think Seattle. The Ravens might not get what the Seahawks fleeced Denver for in exchange for Russell Wilson – two first round draft picks, two second-round picks and a fifth-round pick as well as some serviceable players. But there will be more than one team in the market for a franchise quarterback.
It's easy to be swayed by Jackson's explosiveness. He can be dynamic. In his rookie season, after replacing Joe Flacco, the Ravens won six of their final seven games. He followed that up in 2019 as the NFL's MVP, throwing for 3,127 yards and rushing for 1,206.
That's when I got my autographed photo.
The problem is this, since then Jackson has not improved at all. He throws an awful long ball and has difficulty working the sidelines. He still holds on to the ball way too long, and often aborts passing plays when the pocket begins to collapse.
And then there are the injuries. Since his MVP season, Jackson has missed 15 games. You can't tell me that the run-first offense doesn't contribute to his dings. He just takes a lot more hits than most NFL quarterbacks.
When Baltimore falls behind in games, it's difficult to come from behind when throwing downfield isn't your thing.
My autographed photo of Jackson will still hang in my sports room, whether Lamar remains a Raven, or not.
But in today's quarterback driven NFL, it's time to move on from Lamar.
Try calling Denver first.