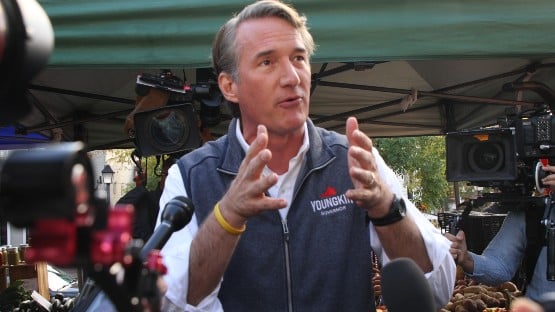 Gov. Glenn Youngkin is saying more than a dozen Northern Virginia schools intentionally delayed delivering letters of commendation to students scoring well in the National Merit Scholarship competition "in the name of equity."
The schools say the delays in notifying students of achievements in the competition were simply mistakes.
Attorney General Jason Miyares is nonetheless investigating the delays, and also the admissions process for one of the schools, the Thomas Jefferson High School for Science and Technology in Fairfax County, which was reformed in 2020 to include to take into account socioeconomic status, leading to increases in the number of Black and Hispanic students.
Yes, there's politics at play here – ugly politics, as you can tell, with the governor throwing around the term "equity," the AG getting in the middle of a fight between White and Asian parents on one side, and Black and Hispanic parents on the other, and both making it public that they're backing legislation to require school districts to inform students and parents about achievement awards, to show that they're taking action.
"We now know that at least 16 schools across three different school divisions in Northern Virginia withheld notification of accolades from high-performing students in the name of 'equity.' Parents are rightfully upset, and they should be," Youngkin said.
"As a child of an immigrant, I know that education is the doorway to the American Miracle. It is supposed to create equal opportunities for our students – not equal outcomes at the expense of others," Miyares said. "While my office continues our civil rights investigation into Fairfax County and looks into potential violations at additional school systems, I applaud the governor for introducing legislation that would prevent this from happening again."
Note that both stopped short of making the claim that the delays regarding the letters of commendation would have any real-world impact on students.
There were 1,725 commended students in Virginia in the 2023 competition, and 397 semifinalists – 238 from Fairfax County, including 132 from the Thomas Jefferson High School for Science and Technology – who advanced to the next round.
Students who receive letters of commendation are basically being given a nod from the National Merit Scholarship program as they exit the competition for scholarship awards.
A Washington Post story published on Friday quoted admissions officials at the University of Virginia and Virginia Tech who said the inclusion or omission of National Merit Scholarship commendations would have no bearing on admissions or financial-aid decisions.
"Never," Juan Espinoza, Virginia Tech's associate vice provost for enrollment management, told the Post. "I can say with confidence it wouldn't make a difference."
"Even if it was in the file, it wouldn't be anything that would move the needle in the review," said Greg W. Roberts, dean of admission at UVA. "It's just not part of our conversation."
It might seem a bit like putting the cart in front of the horse to push for a legislative solution to something that appears to have been a series of mistakes, and doesn't seem to have a meaningful impact on the ability of students to win admission to the college or university of their choice.
"In Virginia, parents matter," Youngkin said, saying the legislation he is backing "will ensure that merit and accolades are celebrated in the Commonwealth."
"We will not allow our students and their parents to be left uninformed of their hard-earned recognition in what we now know was widespread across more than a dozen schools in multiple school divisions," Youngkin said.