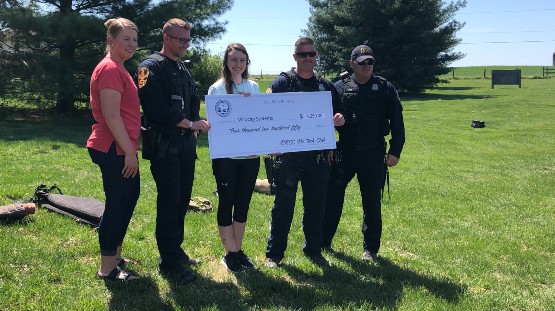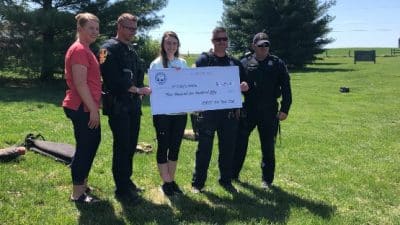 Blue Ridge Community College's Veterinary Tech Club raised $4,250 to buy five bullet-proof vests for Virginia State Police K-9.
"That's the purpose of the club," said club advisor Stephanie Atkins, who is also a licensed veterinary technician. The club raises funds every year for animal-related causes.
This year the club raised more than usual, during the 50th anniversary of the college's veterinary technician program.
To raise money to buy the K-9 vests, the club sold T-shirts and sweatshirts, held a spring and Easter photo shoot for pets and pet owners, and on Thursday will hold a Pie Your Teacher contest. For Thursday's contest, 10 faculty members raised $85 each. The club also sold pizzas.
Each vest, according to Atkins, costs $850.
"It's been a lot of work," Atkins said, so she was really excited for Wednesday's K-9 demonstration by three Virginia State Police Troopers and their canine partners.
Gail Foley, co-advisor of the club, said the club raised money in 2018 to buy four vests.
VSP Senior Trooper Jess Lewis has been a K-9 officer since 2012.
"It's a multi-purpose vest that's not too hot on the dog in the summer time," Lewis said.
K-9 officers are usually German Shepherds, Dutch Shepherds or Belgian Malinois, dog breeds which have thick fur and tend to get overheated in high temperatures.
Lewis found this fact out in August 2021 when his K-9 partner, Duke, pursued a hit-and-run suspect in Augusta County. The suspect fled on foot, Duke pursued.
While Lewis and other K-9 officers took 15-minute turns with their dogs to give each a break from the heat, and Duke showed no symptoms on the scene, afterward he began to exhibit symptoms of heat stroke. Lewis took him to a veterinarian in Manassas where he was looked after for three days before the decision was made to euthanize.
The vests paid for by the Veterinarian Technician Club will be measured to fit each K-9 officer. The vests ensure the protection of each K-9 when they search for bodies, narcotics or explosives, or in the pursuit of suspects. The VSP has 80 K-9 officers.
Lewis said that each dog is certified in obedience.
"Without obedience, you're not going to have anything else," Lewis said. A handler must have control of is K-9 partner to get the job done.
After 13 weeks of K-9 patrol, handlers are ready for the field.
"It's probably one of the hardest schools we offer," Lewis said.
The dogs begin their careers as K-9 officers at about age 1.5 to two years old, and no limit exists on the years they can serve.
"Basically, the dog will tell us when it's time to retire," Lewis said.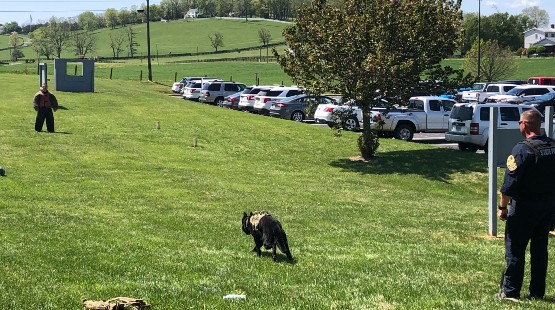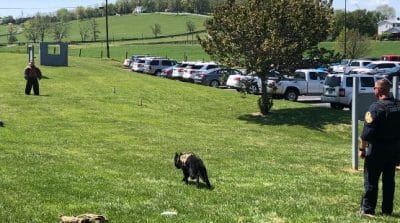 Lewis is partnered with his third K-9, Bandit. His first K-9 is 15 years old and has enjoyed retirement with Lewis' family at home since he was six or seven years old. He was retired as a K-9 officer when arthritis in his knees developed.
"We spend more time with these dogs the new do our own family and that's the honest truth," Lewis said.
So the dog has to have the handler's back at 3 a.m. when a suspect must be pursued.
"At the end of 13 weeks, you have your partner," Lewis said.
And the handler could get a call to search for a missing child or respond to a barricade.
VSP K-9 officers and their handlers respond to calls all over the state, and also work accidents and write traffic tickets.
"The K-9 is an added specialty, so to speak, but it's a great asset," Lewis said.
The Commonwealth pays for a K-9 officer's veterinarian bills, care and food.
At home, Lewis said he does not allow his working K-9 officer to be around his family. His current partner, Bandit, does not like children. Bandit stays outside in his kennel except in cases of severe weather.
"These dogs are work dogs," he said. They are not pets. "The only relationship he's allowed to have is between me and him."
When a K-9 officer retires, the relationship between K-9 officer and handler changes.
"This is fantastic what the club has done this year," Foley said. The club raises $3,000 to $4,000 every year for a local nonprofit, including local SPCAs, the Humane Society, reptile rescue or equine therapy organizations.