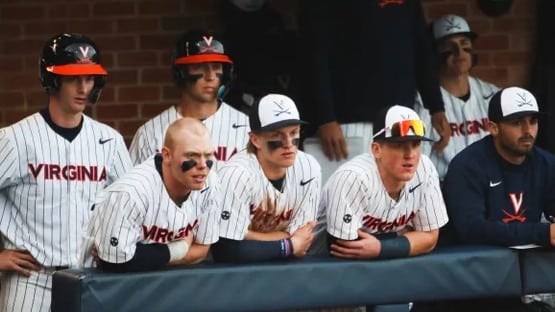 Remember Coach K's made-up Ralph Sampson story? Brian O'Connor doesn't have to embellish the ninth-inning Duke stolen base.
Literally for decades, Mike Krzyzewski told his Duke guys a story about how Virginia played Ralph Sampson deep into a blowout win in the ACC Tournament in 1983 to get them fired up for games with the Cavaliers.
Ahem, Sampson, saddled with first-half foul trouble, played a grand total of 14 minutes in the 109-66 butt-whuppin'.
But Duke actually did steal a base in the ninth inning of a 17-5 win over Virginia in Charlottesville on April 28.
O'Connor doesn't have to tell a tall tale on that one.
Setting the scene, the game was 11-4 in the top of the ninth when Giovanni DiGiacomo led off the frame with a double down the left-field line.
With Cole Hebble at the plate, DiGiacomo stole third, and later scored on an infield single to ignite a six-run inning that put a game already out of reach even more so.
DiGiacomo, a grad transfer from LSU, has a career-high 19 steals in 23 attempts this season for Duke.
The ninth-inning stolen base was his second of the night in the, for emphasis, let me repeat, 17-5 win.
You can argue that it was just a seven-run game when he took off for third, which, fair.
The unwritten rules of baseball tell you that you don't steal up seven in the ninth, but it's also the case that they play nine innings for a reason.
Again, fair.
A second glance at the box score will show you that O'Connor was already conceding the game, sending junior Avery Mabe, who pitched in three games in 2023 – one inning each in an 18-4 UVA win over Mt. St. Mary's on April 12, a 19-6 win over VCU on April 18, and then an inning in this one – to finish this one out.
Mabe faced 11 batters in the ninth, and was charged with six runs on six hits.
He was out there to take one for the team.
If you're looking at DiGiacomo's stolen base from Duke's perspective, you're thinking, the kid is a gamer, going all out, gotta like the moxie.
If you're looking at it from the Virginia clubhouse, heading into a Super Regionals series that has Duke back in town, you're already plenty motivated, because a shot at the College World Series is on the line, but if you need an extra ounce of juice, there it is.