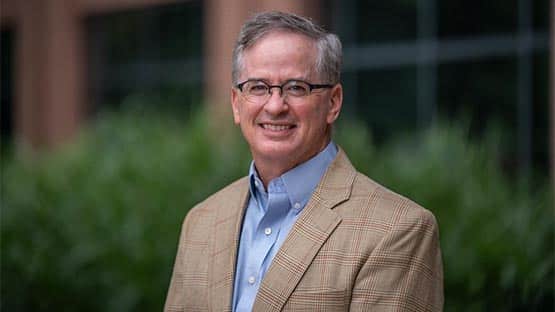 Having end-of-life discussions with family members may be difficult so some may choose to ignore it altogether, thinking they will have more time with their loved one. Unfortunately, that isn't always the case.
Hospice of the Piedmont aims to make the process a little easier for families by offering a presentation titled "Hard Conversations Near the End of Life" on Thursday, March 2, at 2 p.m., at Unity of Charlottesville.
Dr. Tim Short, Hospice of the Piedmont Chief Medical Officer, will offer advice on how to facilitate planning discussions while navigating a complex healthcare system.
"Having sat with hundreds of patients as they approach the end of their lives, I've learned that everyone approaches their own death differently," said Short. "Each of us defines 'quality of life' in our own way, and it can often change over time. As medical professionals or family members, it's our job to understand our loved one's definition and honor their wishes. So, at this event, we'll talk about how to have these difficult conversations in a loving way."
Short has extensive experience in hospice, hospitals and even personally, with his own family. Short is board certified in family medicine as well as hospice and palliative medicine. Before joining Hospice of the Piedmont, he was an associate professor of palliative medicine at the University of Virginia. He also holds a BA in Religion from Duke University.
The event is presented by Hospice of the Piedmont and Unity of Charlottesville.
"One of the many important functions of any faith community is assisting members and families deal with the reality of death," said Rev. Don Lansky, senior minister of Unity. "And yet so many of us procrastinate or are ill-prepared when end-of-life situations draw near. We're pleased to have the opportunity to host Dr. Short to bring these crucial and courageous conversations to the public."
Unity of Charlottesville is located at 2825 Hydraulic Circle in Charlottesville. The event is free and open to the public.
For more information, visit https://unitycharlottesville.org/events/hard-conversations-near-the-end-of-life
Related stories
Hospice of the Piedmont looking for its next leader after Cottrell announces retirement
Hospice of the Piedmont camp reinforces to kids, teens that 'they are not alone' in their grief
Hospice of the Piedmont launching project to encourage families to have proactive conversations about death