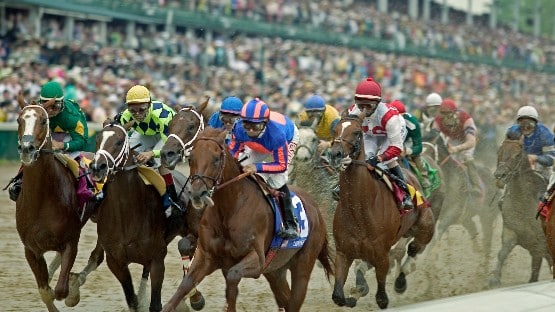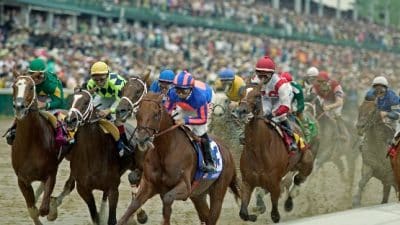 Officials in horse racing called an emergency summit meeting today to address the deaths of 12 horses since March 30 at Churchill Downs.
The Horseracing Integrity and Safety Authority (HISA) is conducting an independent investigation into the death of each horse, as reported by CNN, and sending experts to the race course where the Kentucky Derby is run every year. On Monday, HISA said it is "deeply concerned by the unusually high number" of horse deaths at Churchill Downs.
An emergency summit today will include members from Churchill Downs and the Kentucky Horse Racing Commission to review all available information.
Two more horses died at the course on Saturday after suffering significant injuries which required euthanasia.
"Churchill Downs respects the authority of HISA and their investigatory process. We have worked in full compliance with HISA regulations over the last several weeks and welcome the additional steps they have outlined today," Churchill Downs CEO Bill Carstanjen said in a statement.
He added that Churchill Downs and HISA "all want what is best for the horses and participants and we will cooperate with any measures to ensure the safest racing environment possible and to restore the trust and confidence of our fans and the public."
Horse racing deaths have been prevalent in 2023. The Preakness 148 Stakes was raced on May 20 after a 3-year-old colt named Havnameltdown suffered an ankle injury in the sixth race and his jockey was flown off his back. The colt galloped down the track and struggled to stay upright until he was corralled. His left front fetlock was broken, which is considered inoperable for a horse to suffer. Black curtains were set up around the colt while he was evaluated and then euthanized.
Before Mage won this year's Kentucky Derby in early May, seven horses died at Churchill Downs in the week prior. Trainer Saffie Joseph Jr. was suspended by Churchill Downs out of caution after two of his horses died.
Today's summit is being held at HISA headquarters in Lexington, Kentucky.
Related stories:
Mage's Kentucky Derby win overcast by seven horse deaths at Churchill Downs – Augusta Free Press
American horse racing missteps again: Preakness win overshadowed by death – Augusta Free Press