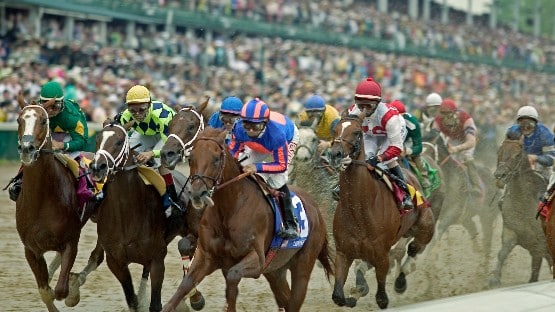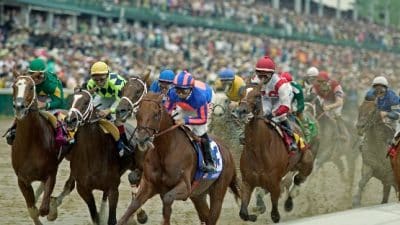 Horse racing in the United States was marred by tragedy again on Saturday before National Treasure won the Preakness Stakes 148.
Havnameltdown was euthanized before the sixth race after an ankle injury. Trained by Bob Baffert, the 3-year-old colt rounded the far turn in the sixth race at Pimlico Race Course and apparently took a bad step. Jockey Luis Saez fell into the dirt.
The colt galloped down the track and struggled to stay upright until he was corralled. His left front fetlock was broken, which is considered inoperable for a horse to suffer. Black curtains were set up around the colt while he was evaluated and then euthanized.
"We never had an issue with him," Baffert said in a statement. "We are so careful with all these horses, and it still happens. It is something that is disheartening."
Saez was released from the hospital Saturday evening.
Preakness 148 winner National Treasure was also trained by Baffert, who cried on camera when asked by reporters about the win and about that day's tragedy.
"We do grieve when these things happen. There is nothing worse than coming back and the stall is empty. He is a nice horse. He could not have been doing any better. It's sickening. I am in shock," Baffert said.
Havnameltdown is the third horse in seven years to die on Preakness Day. Homeboykris died in 2016 after collapsing while walking back to the barn. The horse had just won the first race of the day. Pramedya was euthanized three races later after breaking her front left leg.
Two weeks ago, Mage's win of the Kentucky Derby was overshadowed by the deaths of seven horses.
Tracking of horse deaths in American racing began in 2009, and deaths are at the lowest this year.
Saturday's was the first Preakness for Baffert after a year-long suspension because Medina Spirit, who won the 2021 Kentucky Derby, failed a drug test. He was prohibited from entering horses in the Derby the last two years, or the Preakness and Belmont last year because of Kentucky's 90-day ban against him, which Maryland and New York also enforced. According to an analysis by the Washington Post in 2021, 74 horses in the trainer's care in California died between 2000 and 2021.
The Equine Injury Database reveals that 328 thoroughbreds died at American racetracks in 2022.