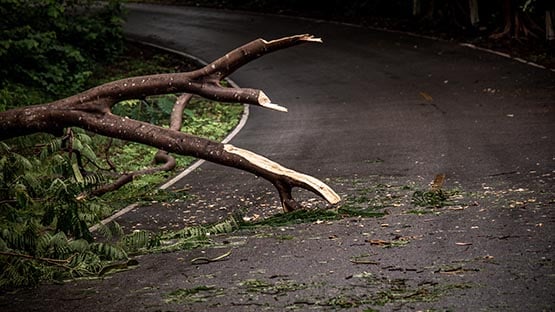 Thunderstorms, flooding, hail and tornados are all possible with severe weather in the spring in Virginia.
Homeowners can do a number of maintenance tasks in advance to prepare their property for thunderstorms or more severe weather.
"Now is the time to be proactive and take steps to prepare your home for the upcoming storm season," said Scott DeNoon, senior farm product and underwriting manager for Virginia Farm Bureau Mutual Insurance Co. "Taking a walk around the property to identify and correct issues can pay big dividends and minimize frustration in the long run."
These steps include:
Trimming shrubs and overhanging branches near houses and power lines. High winds can easily whip around branches and trees, damaging roofs, windows and other property.
Clear drains and gutters to ensure proper drainage. Clogged gutters can cause water to back up into roofs, leading to water damage. Gutters should be secured to the house, and downspouts should be diverted away from the foundation.
Clear the lawn of debris like fallen branches
If a storm is imminent, secure loose items in the yard like patio furniture and toys. These items can turn into dangerous flying projectiles during a gusty storm.
Caulk windows and doors, and inspect the roof. These areas can weaken during the winter, which puts them at risk for leaks and more damage during downpours.
Inside the home, protect your valuable electronics from power surges by installing a home lightning surge protector.
The spring storm season can be a busy time for insurance claims, so "it's also a good idea to review your insurance policy to understand the coverage and make any necessary adjustments," DeNoon said.
And, as always, it's vital to have an emergency plan for you and your family.
This includes having an emergency kit with:
Flashlights and extra batteries
a first-aid kit
a 3- to 5-day supply of bottled water
nonperishable food
medication
important phone numbers and personal information
personal hygiene items
blankets or sleeping bags
Also, all family members should know where to seek shelter if a severe storm is approaching, and have an evacuation plan in place.
Virginia's Severe Weather Awareness Week will be observed March 6-10. Hosted by the Virginia Department of Emergency Management and the National Weather Service, the week serves to remind the public about threats from severe weather and how to avoid them.
To learn more about Severe Weather Awareness Week, visit https://www.vaemergency.gov/severe-weather-awareness/