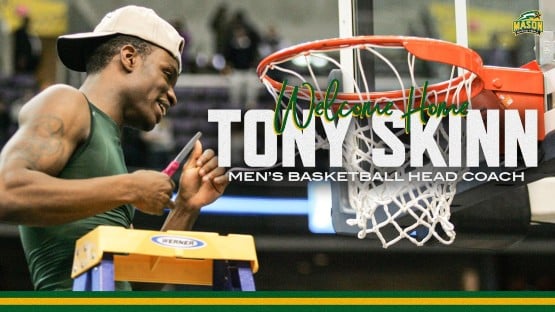 George Mason is going to a hero from the 2006 Final Four team for its next head coach.
The school named Tony Skinn, most recently an assistant at Maryland, to replace Kim English, who left the program last week to take the head job at Providence.
"Tony Skinn is the right man for this moment in Mason's basketball program," said Gregory Washington, the interim president at George Mason. "His coaching style will galvanize our student-athletes and his connection to our finest hour on the court is sure to electrify our alumni and fans. Let the Tony Skinn era begin!"
Skinn, 40, like English, was hired at Mason without having had head coaching experience at the college level.
"It is with great excitement that I return home to George Mason," Skinn said. "I'd like to thank Dr. Washington and Nena Rogers on this tremendous opportunity and for believing in my vision. I am committed to greatness! We will set our standards high, hustle every step of the way and compete amongst the best. It's an unbelievable feeling to step back on campus. I've had some of my greatest memories here and I'm looking forward to making new ones with our fans and our community. Our best days are ahead! Mason Nation, I missed you and I am honored to represent you."
Skinn was an assistant under Kevin Willard, the coach at Maryland, both there and when Willard was the head man at Seton Hall.
"Tony is ready to run and lead Mason's men's basketball program," said Willard, who led Maryland to an NCAA Tournament appearance this season. "He has great energy, is a ferocious competitor and will demand excellence from his players. I have enjoyed having Tony on my staff at both Maryland and Seton Hall and I am confident he will work tirelessly to build a great program at George Mason"
Skinn also coached for a season under Chris Holtmann at Ohio State.
"Tony is a very bright basketball mind who connects well with players," Holtmann said. "He has tremendous recruiting connections along the East Coast and I believe he is ready for this next step in his coaching career. The George Mason community knows Tony Skinn well as a player and I'm excited that he and his family now get to return in this role. Congratulations on an excellent hire."
A two-time All-CAA selection with the Patriots from 2003-2006, Skinn scored 1,079 career points while starting 68 games in his George Mason career. During the 2006 NCAA Tournament, he averaged 11.3 points and shot 35 percent from three-point range while leading the Patriots to the national semifinals.
"I love Tony Skinn," said Jim Larrañaga, Skinn's coach at George Mason, who has now led Miami to its first-ever Final Four. "He was a great college player who led our George Mason team to the Final Four. He then became a terrific assistant coach helping Louisiana Tech, Seton Hall, Ohio State and Maryland recruit some outstanding student-athletes. He is now the perfect choice to become the next head coach at George Mason and lead his alma mater to the top of the Atlantic 10 and beyond. I wish him all the success in the world. Onward and upward for Tony and Mason."