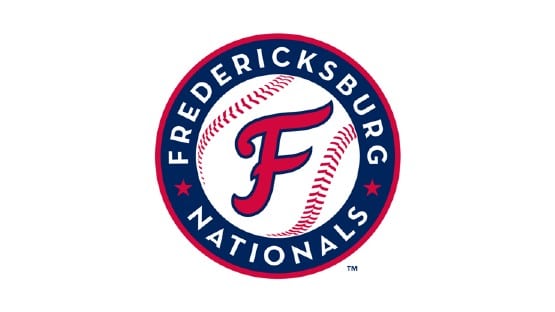 The Fredericksburg Nationals picked up their third straight win over the Salem Red Sox on Friday night, winning by a final score of 8-5.
The Red Sox did get on the board first, as Ahbram Liendo walked and stole second, then advanced to third on an E1. Yorberto Mejicano drove him home with a sacrifice fly later in the frame, but Bryan Sanchez limited the damage to just one run.
Fredericksburg got a leadoff double from Murphy Stehly in the top of the third, which pushed his hitting streak to 14 games. Armando Cruz bunted him over to third base, then a wild pitch allowed Stehly to dash home to tie the game at 1-1.
But in the home half of the fifth, Salem retook the lead on another wild pitch to make it a 2-1 deficit.
From there, the FredNat offense found a second gear. Daylen Lile singled to open up the sixth and stole second base, then both Paul Witt and Elijah Green walked to load the bases with no outs. A wild pitch allowed Lile to score, then Murphy Stehly came through with a single to drive Witt home, giving the Nationals a 3-2 edge. Armando Cruz grounded into a 6-4-3 twin killing later in the frame, which pushed Green across to make it 4-2.
Salem pushed a run across in the bottom of the sixth, but the Nats countered in the top of the seventh inning. Sammy Infante got hit by a 3-2 pitch, then stole second base and advanced to third on an errant throw from the catcher. Paul Witt continued his hot week with an RBI single to make it 5-3, then later on Branden Boissiere plated Witt with a sacrifice fly to go ahead 6-3.
Salem battled back to add a run in home half of the eighth, pulling within two runs at 6-4. But once again, Fredericksburg answered. They loaded the bases with nobody out in the top of the ninth, when Murphy Stehly drove in a pair of runs to make it a 8-4 Nats lead.
The Red Sox plated one more run in the bottom of the ninth, but the FredNats held on for a 8-5 victory. Mason Denaburg earned the win with Luke Young locking down the save, while Luis De La Rosa took the loss.
In Game 5 tonight, Bryan Caceres takes on Luis Perales at 6:05 p.m.