Sports
Former NFL player on Damar Hamlin, UVA football tragedy, mental health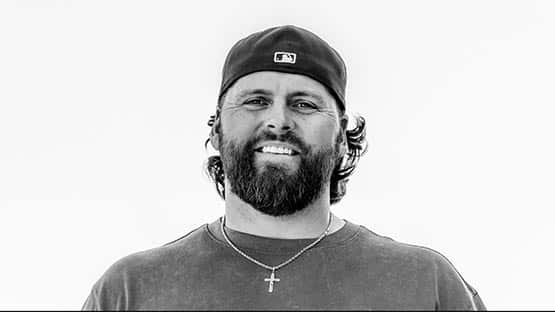 Former NFL player Mike Gibson knows the struggles of being a professional athlete. Now a mental health and addiction recovery advocate for the Mental Health Center of San Diego, he wants other athletes to do something he didn't in his playing days – to seek help.
At 6'3″ and 300 pounds on the outside, Gibson was the picture of what we all expect an All-American athlete to be. However, on the inside, he struggled with insecurities, and over the years, battled substance abuse and addiction issues.
"Ninety-nine percent of people that go through treatment in general struggle with some form of mental health disability," Gibson said in an interview with AFP. "The substances are just a mask or cover for whatever that mental health disability is. It could be anxiety, depression, social anxiety, and other things like that."
Gibson grew up poor in Napa, Calif., wearing hand-me-down clothing and eating ramen, hot dogs and mac and cheese. He was a short, stocky kid, and he said he got made fun of quite a bit. As he grew older, he turned to alcohol to help him with his social anxiety which transformed him into the life of the party.
"It allowed to fit in," he said.
He said the common theme in his story and many other people's stories is the same: "they want to change the way they feel by consuming something."
His NFL playing career started in 2008 when he was drafted by the Philadelphia Eagles. He would later play for the Seattle Seahawks and Arizona Cardinals before choosing to end his career in 2013.
"I ended up getting addicted to prescription pain medication due to an injury," Gibson said. "Something that started out at a very low dose and continued to take throughout the last three, four years of my career, and it trickled on until, when I was done playing football, and I was retired, I had a lack of identity. I didn't know who I was or who I wanted to be. I was always known as Mike the football player, and football was done at that point.
"And that's where my life really started to take a downward spiral and really struggle," he said.
During his struggles, his family reached out to the NFL Players Association, the NFL and former trainers for mental-health resources, but they just didn't have them. He said his family ended up having to go to Google to get help.
He said he was sure that some of his teammates recognized his tendencies – but no one ever intervened.
At the time, he said, he would have probably been angry, because he always felt he was teetering on the edge of the roster, so close to getting moved to the practice squad or cut altogether.
"I think, looking at it now, it's better to say something than nothing at all."
After he was done playing football, his huge circle of friends, people who wanted to be around him when he was in the NFL, seemed to go away.
It took hitting rock bottom for Gibson to seek help. His home was foreclosed on. All he had was two trash bags – one full of clothes, and one full of shoes. He couldn't even get a bank account.
Now, in recovery, he is the definition of a success story. He owns a home again in San Diego and has most importantly reconnected with family.
"That's the greatest reward I've had, having relationships with people who have nothing but my best interests at heart and who genuinely want nothing from me."
Trauma surrounding the Damar Hamlin injury
As someone who has played college and NFL football, Gibson understands how an injury to one player can affect an entire team. And while some players may bounce back quicker, others may struggle with their own mortality or wonder if the same thing could happen to them.
Gibson offers advice for those who might be struggling – players, coaches, families, fans, etc.
"Talk to each other," he said. "When you go through a traumatic experience with a group, I feel it's important for those individuals to talk to each other. It can become a good bonding experience," he said. "Football teams are generally close because of all the stuff they go through from training camp to the dog days. That forms a brotherhood.
"So talk to each other, and then eventually seek professional help."
Individually, Gibson said, players are going through stuff not just on the field but off the field, too.
"You want to be able to share your feelings with those people in the field, and then kind of empty the garbage can, so to speak, to an actual therapist so that they can give you the tools to work on."
He said it was encouraging to see the NFL offer counseling and therapy after Damar Hamlin's life-threatening injury on "Monday Night Football" last week, which is a major improvement from his playing days.
"An incident like this can be a trigger for players that are already struggling with anxiety and depression that come with the pressures of being a professional athlete."
Gibson said that players should not be afraid or hesitant to ask for help when they are not feeling themselves and wishes he would've done so when he was active in the league.
"I was a broken man," Gibson said about when he entered treatment.
"I guarantee you that if you seek help, good will come to you. Traumatizing experiences alter people's lives for a reason. So seek the help that you need. If you need it, don't be afraid to speak up."
The love and care Gibson said he received in treatment "ultimately saved my life."
UVA football recovery
The University of Virginia football team will have its own struggles looking ahead to the 2023 season. Three players were murdered by a classmate – and they haven't played a game since the tragedy.
"You've got to surround yourself with people who have your best interests at heart," Gibson said. "The team will have a lot of motivation going into next year.
"Obviously, it will be an emotional offseason and an emotional beginning to the season."
Gibson said while it seems simple, talking to people, and talking to professionals, goes a long way as far as helping recover from a tragedy like this.
He suggests finding a therapist that you have common ground with to help you move forward.
"Don't be afraid to seek the help," he said. "It's better to speak up than to say nothing at all."
Related stories
Athletic trainer recalls injury to varsity baseball player similar to one on 'Monday Night Football'
Scary NFL injury highlights need for CPR, AED training at youth-sports level
Learning from the death of tWitch: Warning signs to look for that may save a life
UVA victim's mom: 'Something could have been done to prevent this'
HER Sports founder believes sports can serve as therapy for teen girls
Black and male: Why Chris Jones may not have sought help for mental-health condition
Mental-health expert: 'Possibility for recovery and healing' after UVA Football tragedy