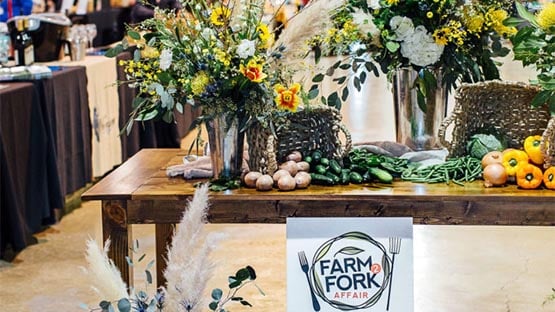 Shenandoah Valley economic development and tourism offices have joined together with Virginia Grown, Virginia Cooperative Extension and the Alliance for the Shenandoah Valley to present the Farm2Fork Affair on March 14 at the Rockingham County Fairgrounds.
The event was last held in March 2019 and has been on hold due to the COVID-19 pandemic.
At this event, buyers range from local grocers and restaurateurs to food service companies and others. They can taste the flavor of the Shenandoah Valley, experience the region firsthand, create new supplier partnerships and discover the Valley's significant impact on local food systems.
Producers, farmers, makers, wineries and others talk with buyers, offer samples and educate buyers about their products.
"Four out of five of Virginia's top agricultural producing counties are located in the Shenandoah Valley and more than 10,000 jobs in the Shenandoah Valley are in the food and beverage industry," said Joshua Gooden, economic development and tourism coordinator with Rockingham County. "Joining together with other local and state organizations to host and promote this event is a tangible way we can help boost local agriculture sales, the largest industry in Rockingham County."
In addition to Rockingham County, the other local government organizations that have partnered on this event include the counties of Augusta, Clarke, Frederick, Page, Rockbridge and Shenandoah and the cities of Staunton, Waynesboro, Lexington and Buena Vista.
"Buyers should come prepared to learn more about every stage of the farming business and to find producers that match their needs and market scale," said Rebekah Castle, Director of Economic Development and Marketing for Augusta County. "Products such as produce, fruits, meats, cheeses, craft drink, jams, honey, hot sauces, pizza dough and even flowers will be promoted, with many items available for sampling."
There is still time for producers and buyers to register to attend.
Producers may secure a booth space and wholesale buyers may register by visiting the event's page at https://Farm2Fork.eventbrite.com.
More information can be found at www.farm2forkaffair.com.