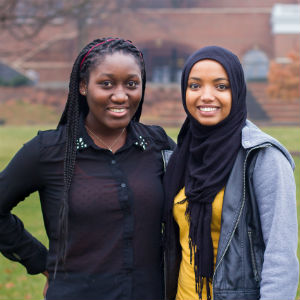 After spending the summer thousands of miles from her native liberia and watching nervously from afar as Ebola swept through her country, sophomore Winifred Gray-Johnson wanted to take action when she returned to the Eastern Mennonite University campus.
She never imagined that desire, born from hours of long-distance conversation with her family members and prayer over the sufferings of fellow West Africans, would draw the attention and support of her university community – and a Nobel Peace laureate.
"Doing something was a way to help myself with the panic of thinking about my family and what was going on in my country," said the economics major. "I didn't want to be silent and just sit on my hands, so I started thinking, 'What could I do?'"
That question quickly became "What can we do?" when shared with fellow members of EMU's International Students Organization (ISO).
To Gray-Johnson's surprise and delight, Liberian peace activist and Nobel laureate Leymah Gbowee (MA in conflict transformation '07) learned of the fledging movement and enthusiastically agreed to headline a fundraising dinner.
Tickets for the Feb. 7 dinner with Gbowee at EMU's Martin Chapel, with a seating capacity of 140, are $100, with $80 of that a tax-deductible donation to the Gbowee Peace Foundation Africa. Dinner guests will receive preferred seating at a public lecture later in the evening in Lehman Auditorium.
A freewill offering will be taken at the lecture, with an online donation option for those who cannot attend.
To those who need most help
"She is helping us raise awareness, but at the same time, we know that this money will go through her organization to those who most need it, [to] the children who have lost family members or been displaced," Gray-Johnson said.
Gbowee, who received the 2011 prize for her work in ending Liberia's civil war, says that her country's decade-long peace is threatened by Ebola.
"We must face another enemy from within," she wrote in an August 2014 op-ed published by The Guardian in Britain. "…Ebola is resurrecting old traumas from those who survived the war."
Since the Ebola outbreak began, Gbowee's Monrovia-based non-profit Gbowee Peace Foundation Africa has contributed to community-based, grassroots education, outreach and awareness. Donations from the EMU fundraiser will be shared by the foundation with two Liberian organizations founded by alumnae of EMU's Women's Peacebuilding Leadership Program: GSA Rock Hill Community Women in Monrovia, founded by Vaiba Flomo (CJP Grad. Cert. '13), and Messengers of Peace, a youth outreach group founded by Gwendolyn Myers (CJP Grad. Cert. '14).
Gbowee's visit kicks off a series of events planned by the International Students Organization in March, including a color run, chapel talk, and movie showing.
Kaltuma Noorow, ISO co-president, said students have rallied to the cause, inspired first by Gray-Johnson's willingness to share how she and her family were personally affected by the outbreak.
Wilfred Gray-Johnson, Winifred's father, is executive director of the liberia Peacebuilding Office of the United Nations Peacebuilding Fund Secretariat. During the outbreak, he and his team travelled frequently to rural areas "to work on an early warning and response mechanism to ensure that Ebola did not lead to a national conflict," Gray-Johnson said. "While in the field, he could see firsthand what was happening."
At later ISO planning meetings, student organizers discussed "the stigma of disease and who was getting aid and who wasn't, which led to conversations about who needed help who wasn't getting it. We've all seen that in our own countries," said Noorow, a junior peacebuilding and development major from Kenya.
Learning from action-taking
In a year of new leadership and transition for the organization, Noorow credits ISO members for pulling together and taking on "huge responsibilities" to work on this fundraiser and the upcoming events in March, she said, adding that she's reluctant for any one member of the group to be singled out for attention. "We've all learned a great deal from the process. It's important that every member be recognized for their thoughts and all the time spent deliberating and processing."
Her own involvement with the project has been empowering, Noorow added. "In class, we learn a lot of theory and just reading about it is great, but I'm interested in change. I'm a doer. This event shows that we students can actually do something given the platform. We never imagined it to reach this magnitude. It's been a lot of work and a lot of time, but we're all really excited."
From following appropriate fundraising protocols to parsing out the correct wording for public relations releases and invitations, Gray-Johnson says the hands-on experience has taught her about the complex realities of fundraising for international causes.
"I've learned a lot about professionalism and credibility, about raising money for a cause," she said. "It is important to me that the money raised here go through the right channels… [It helps that] Leymah's giving us her credibility and that of her foundation."
Noorow and Gray-Johnson both met Gbowee briefly when she came to campus in spring 2014 to deliver the commencement speech and celebrate the graduation of her son, Joshua Mensah, a digital media major. They are looking forward to learning more about Gbowee's peacebuilding experiences from the woman herself.
Gray-Johnson hopes to share the experience with her 14-year-old sister, Addy, who moved from liberia this summer to Maryland, where she's living with an aunt.
Article by Lauren Jefferson