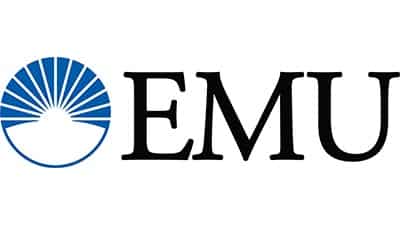 Eastern Mennonite University is making history as one of the first universities in the country to present "Natasha, Pierre, & the Great Comet of 1812," a two-time Tony Award-winning musical that takes place March 31-April 1 at 7 p.m., April 13-15 at 7 p.m., and April 16 at 2 p.m. in EMU's Blackbox Theater.
Based on Leo Tolstoy's "War and Peace," this musical adaptation by celebrated composer Dave Malloy premiered at Ars Nova in New York City in 2012. It debuted Off-Broadway the same year and on Broadway in 2016.
Audience engagement has always been part of the show, and EMU Theater's production is no exception. Breaking down barriers between audience and actors, this immersive experience features a cast of 11 students, alumni, faculty/staff and community members singing and dancing to and with theatergoers who are seated around tables and an octagonal bar with an orchestra pit.
"It's a cabaret café-like environment, and the workers of the cabaret café are serving up popcorn and non-alcoholic drinks and telling the story of 'Natasha, Pierre, & the Great Comet of 1812' from 'War and Peace'" said EMU Theater faculty director Justin Poole.
"At a base level, it's a fun show to be in and watch," said Greta Schrag, who is preparing for her vocally-challenging role with the help of EMU voice teacher Olivia Rominiyi. "At a deeper level, it's a story about love and humanity and what it means to physically interact with the people around you."
Cast members perform the role of one or two named characters and in the ensemble, wearing costumes that combine period and punkish-style elements – and singing songs that combine the feel of Indie folk-rock and electronic dance music with Russian folk and classical sounds.
"Natasha, Pierre & the Great Comet of 1812" is presented by arrangement with Concord Theatricals.
Tickets are $18-$20.
For tickets, visit www.emu.edu/box-office or call the EMU Box Office at (540) 432-4582.
'Natasha, Pierre, & the Great Comet of 1812' Cast
Natasha Rostova | Hannah Landis and Greta Schrag
Pierre Bezukhov | Joseph Seitz
Sonya Rostova | Afton Rhodes-Lehman
Marya Dmitriyevna | Holly Hanks Wanta
Anatole Kuragin | Adam Hoover
Andre Bolkonsky/Old Prince Bolkonsky | Jacob Nissley
Balaga | Bradley Kirkdorffer
Hélène Bezukhova | Eileen Hernon
Fedya Dolokhov | Marc Dowdy
Mary Bolkonsky/Female Opera Singer | Grace Altman