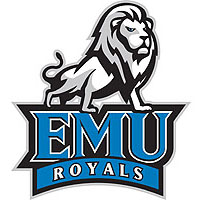 Numbers don't lie. Sara Ritchie's (Harrisonburg, Va./Turner Ashby) phenomenal stats from this weekend made it easy to select her as the first EMU Royals Athlete of the Week of the 2014-2015 school year.
Last weekend the Royals hosted their EMU Invitational looking to start their season off on a high note. The Royals' first match of the season Friday against Hood College was a clean 3-0 sweep. Sara notched her first double double with 18 kills and 10 digs, but that was just a warm up for the outside hitter.
Her most noteworthy effort was against Goucher when Sara attained a remarkable 21 monstrous kills and 14 hard-working digs to help lead her team to a well deserved four-set win against the Gophers. Sara continued to notch double doubles in kills and digs for the remaining two matches, 14 and 11 against Catholic University and 10 and 12 versus Salem College.
The 5-7 senior completed the invite by earning a spot on the All-Tournament Team for pounding out 4.50 kills and 3.36 digs per set along side of a total of five precise service aces. After the opening weekend she leads the ODAC with 63 kills, 4.50 kills per set, 69 points and 4.9 points per set.
A big deciding factor for Sara to attend Eastern Mennonite was the cross-cultural experience. She felt privileged to be able to study in Spain and Morocco last fall, even though it meant missing the 2013 volleyball season.
To make up for her missed season, Sara put a lot of time in the weight room getting stronger and spent countless hours increasing her fitness by running, biking and playing in a co-ed doubles volleyball league.
"Playing in that league definitely helped me with my defense because you can't not play defense with only two people," Sara said jokingly.
The Harrisonburg native was more than excited to play in her last season of collegiate volleyball this year.
"All of preseason was really fun for me," she said. "I missed the whole team aspect, being with the girls and just laughing with the girls. So to come on the court with them [last weekend] was very exciting!"
The newly engaged captain has some big plans ahead of her this year. After graduating with a degree in history and a peace building, political studies and pre-law minor in April, Sara will be getting married to her best friend James Helmuth in May. Together they are considering pursuing a service term in Latin America through a non-profit organization. Sara plans on using her experience at EMU and in volleyball to help her in the future.
"Being at EMU and playing volleyball has taught me about relationships and being supportive of others," Sara explained. "It has also taught me how to relate to people and how to empower them."