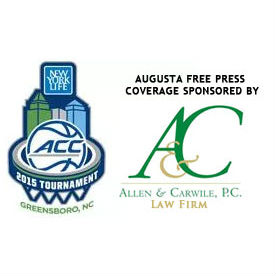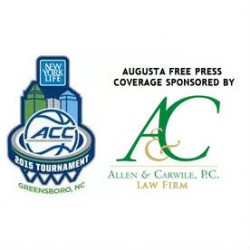 Virginia Tech won all of two ACC games in Buzz Williams' first season. The Hokies were rarely an easy win on the schedule for opponents even so.
Tech, an 81-80 winner over Wake Forest in the first round of the 2015 ACC Tournament on Tuesday, had played ACC regular-season champ UVA tough twice, leading by 10 with 10 minutes to go in Blacksburg in January before Virginia rallied to win in the final minute, and took Duke to overtime at the Cassell last month before losing by five.
But the Hokies limped into Greensboro on a seven-game losing streak, the last loss, on Senior Day, to a Miami team that won going away, 82-61, in a game that never felt that close, sort of feeling like a dagger on the 2014-2015 season.
Cue up Jalen Hudson, a freshman averaging 6.2 points per game, who'd scored 10 points in his last three games after an impressive 23-point night in the loss to Duke on Feb. 25.
Hudson came off the bench to score 32 against Wake, and scored 12 of the Hokies' last 15 points on the day, the final two on a go-ahead driving layup with 12 seconds left that stood as the game-winner after Wake misfired on three shots in the final 6.1 seconds.
It wasn't what Williams would have drawn up. Virginia Tech seemed at its most effective this season playing grind-it-out games, using a small lineup to force opponents to chase its perimeters around and slowing tempo with a mix of zone and man defense.
The Tech-Wake game was practically a track meet, 67 possessions per team, both teams shooting in the vicinity of 50 percent.
Tech did play small for the most part, 7-foot sophomore center Satchel Pierce getting just five minutes after early foul trouble, and were outrebounded 36-28 for their troubles.
But the Hokies spread the floor to create driving and kickout lanes as they have done well for stretches this year with their four-guard. In addition to Hudson's 32-point night, on 10-of-18 shooting, 2-of-3 from three-point range, Tech got open looks on the perimeter for Malik Mueller (2-of-4 from three), Ahmed Hill (2-of-4) and Adam Smith, who was only 1-of-4 from long-range, but that one was a biggie, a late three that gave the Hokies a three-point lead inside of three minutes to go.
The win gives Virginia Tech another shot at the Miami team that shot the lights out of Cassell Coliseum last weekend. Don't expect the Hurricanes, who shoot 36.4 percent from the bonusphere on the season, to go 15-of-25 from three again.
And don't be surprised if the Hokies live to see another day in Greensboro.
– Column by Chris Graham