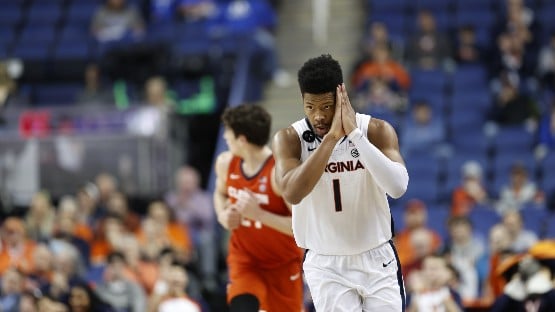 For the second straight night, Virginia may have cost the ACC, and Virginia Athletics, some money, by knocking an opponent out of the ACC Tournament.
North Carolina, without a doubt, will not get an invite to the NCAA Tournament, after falling to 20-13 on the season with its 68-59 loss to the 'Hoos on Thursday.
Clemson is now 23-10 after the 76-56 smackdown that UVA laid down on the Tigers on Friday.
ESPN bracket guy Joe Lunardi, in an overnight update to his NCAA Tournament bid forecast, has the Tigers on the outside looking in, the third on his "First Four Out" list.
Clemson coach Brad Brownell took advantage of the podium and a reporter's question at his postgame presser to make his case for his team.
"The games we got to play, we were .500 or better in those Quad 1 games," Brownell said. "There's teams that they have in the tournament ahead of us, some in our league, that we've beaten, some multiple times, others at their place. In other leagues, we've beaten teams. So, I think just for those reasons.
"If you're truly looking for the 68 best teams, we're one of the 68 best teams," Brownell said.
What's going to be hard is the head-to-head comparisons between Clemson and fellow ACC members NC State and Pitt, who Lunardi has among his "Last Four In."
The NET, at this writing, has NC State (23-10) at 45, Clemson (23-10) at 51 and Pitt (22-11) all the way down at 67.
Clemson is 4-4 in Quad 1 games, which is solid.
State is 5-5 in Quad 1 games; Pitt is 4-4.
What hurts Clemson is two Quad 4 losses, to Loyola-Chicago and Louisville, and a non-conference strength of schedule that ranks 333rd nationally.
"You look at our complete body of work, I think there's plenty of wins home and away that show we can play with anyone in the country when we play our best," junior center PJ Hall said, when it was his turn to make the case for an NCAA bid.
"Obviously tonight wasn't a great showcase of that. I have to take a lot of responsibility for that. The first five out there, we didn't quite bring the heat we needed to," Hall said, addressing the elephant in the room, which, to be fair, applies to not only Clemson, but also to NC State and Pitt, both of whom were bounced from the ACC Tournament in squash matches on Thursday.
"But if you look at some of the games we played this year, how we played on the road, how we played with backs on the ropes late in games and finished, there's not a doubt in my mind that we're one of the best teams in the country and belong in the tournament. I say that wholeheartedly, and there's nothing more to it," Hall said.
"This team has worked so hard, and I can honestly say I feel like we've left it all out there," senior forward Hunter Tyson said. "I'm not looking for sympathy. I'm just looking for recognition of what we've earned. Like Coach said, if you really want the best 68 teams, we're one of them. And we'll have our fingers crossed on Sunday, but I truly believe we should get in. I believe our body of work has earned us a spot in the tournament. Obviously, I understand we have some tough losses, but at the end of the day, we should be in the tournament."
Virginia coach Tony Bennett did his part to put a good word in for the ACC's bubble teams.
"I think as always, you always feel the conference doesn't get its respect," said Bennett, whose team was left on the outside looking in last season after getting bounced by North Carolina from the 2022 ACC Tournament in blowout fashion.
"Some of that stuff is out of our control, but there's good basketball in this league," Bennett said. "Maybe we don't have three 1 seeds like we did Kihei (Clark)'s first year, but college basketball, there's so much parity now, and a lot of it is already, the die is cast at the start of the season, this league is good, this league is not. And I think leagues evolve, too, as a season goes on, and again, all we can control is what we're doing."
With Coach K, Ol' Roy and now Jim Boeheim spending their days rocking on the front porch, Bennett is going to need to brush up on his sales pitches.