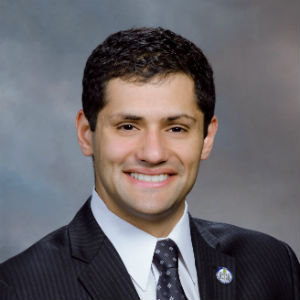 Delegate Sam Rasoul (D-Roanoke City) has announced that he will call for changes to the constitutions of both the United States and Virginia during the upcoming 2015 General Assembly session. Rasoul aims to restore fairness to elections and end gerrymandering via the legislation.
According to Rasoul, the legislation seeks to make systemic changes impacting the root causes of government corruption.  "We cannot truly fix corruption in politics just by imposing stricter limits on gifts.  There also has to be an overhaul of the system that has allowed it to perpetuate in the first place," he stated.
A resolution he is introducing, HJ 545, calls for a Constitutional Convention for the purpose of amending the U.S. Constitution to ensure fair and free elections.  "Bold action to stop corruption must be taken on both the state and federal level," said Rasoul. "Citizens simply aren't seeing the changes they want and deserve, so it's time for Virginia to join other states in calling for a Constitutional Convention." The procedure for bringing about a Constitutional Convention comes from Article V of the U.S. Constitution.
Similar resolutions have already passed in Illinois, Vermont, and California. The measure is being proposed in other state legislatures and seeks to address mounting public pressure to restore fairness to the election process. Specifically, the proposal would limit the influence corporations and special interest groups have through campaign spending. "The amount of money spent on elections has grown exponentially, and that just doesn't sit well with the people we serve," said Rasoul.
Rasoul will also put forth a bill to amend the Constitution of Virginia in order to end gerrymandering. "Voters should choose their politicians, not the other way around," said Rasoul. "Gerrymandering is the biggest cause of dysfunction, polarization, and gridlock in our legislative bodies. Other states have successfully ended it and there's no reason we shouldn't join them."
The measure would take the job of redistricting out of the hands of the General Assembly and give that power to an independent body known as the Virginia Redistricting Commission. No member of the Commission or a member of his or her immediate family could be a member or employee of Congress, the General Assembly, or be employed to lobby in front of either.
"Tackling electoral misconduct and gerrymandering really gets to the root of political corruption issues. I hope that my colleagues in the General Assembly will join me in addressing these problems and giving a greater voice back to the people we serve," said Rasoul.
Delegate Rasoul added that he would like to see an ethics commission with subpoena power to help keep legislators honest.
The legislation will be introduced in the General Assembly once the 2015 session convenes on January 14th.