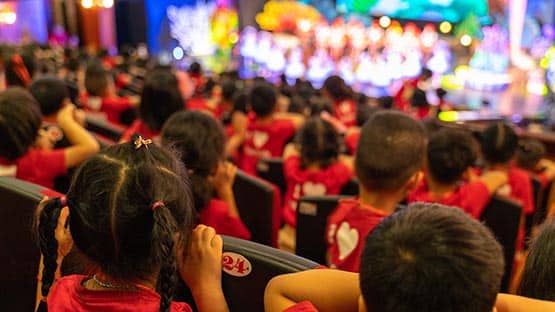 Court Square Theater is expanding its summer musical theater camp program – offering an additional camp this year so more people can participate.
Three camps are available in July:
Touring Musical Theater (rising grades 9-12), July 10-15;
Exploring Musical Theater (rising grades 5-8), July 17-22; and
Discovering Musical Theater (rising grades 1-4), July 24-29.
"Based on the success of our first Summer Camps offerings, we decided to add a third camp this year to allow us to accommodate more participants – and to provide an improved breakout by grade level," said CST Managing Director J.P. Gulla.
All three musical theater camps allow students to experience the many components that come together to create a stage production. Topics include foundational skill-building in acting; theater protocols; auditioning; ensemble work; getting headshots; introductions to movement and dance; exploration of musical theater; as well as cross curricular tie-ins with literacy and core academics. Each camp ends on a high note by performing selected songs from a musical revue.
Each camp meets Monday-Friday from 9 a.m. to 4 p.m. and a performance will take place on Saturday from 2-6:30 p.m.
Each one-week camp is $299 per participant if signed up by April 15. After April 15, the cost increases to $349.
Registration closes June 12 unless the maximum number of participants is reached prior to that date.
Located at 41-F Court Square in downtown Harrisonburg, Court Square Theater is operated by Arts Council of the Valley.
Information and registration forms for the camps are available at courtsquaretheater.org/act-one/summer-theater-camp.