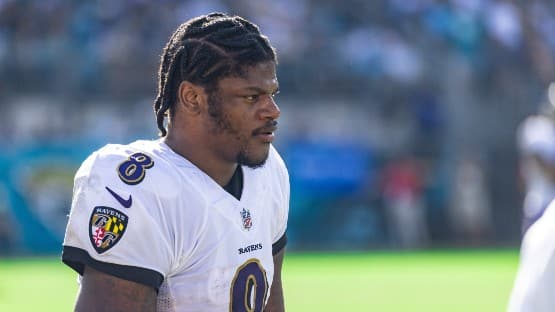 Baltimore Ravens general manager Eric DeCosta believes that building and maintaining an NFL team is like maintaining a house. There is always something to do.
Sometimes the maintenance is minor, like fixing a leaky faucet; sometimes more serious issues need to be addressed, like a sinking foundation.
In Wednesday's Ravens podcast, the Ravens general manager offered up that analogy as the face of the franchise, quarterback Lamar Jackson, dangles in the wind.
A week ago, Jackson announced his trade request, which complicates DeCosta's offseason home maintenance plans.
How does DeCosta approach the minor issues of the Ravens when an unsettled foundation looms?
Talks between Jackson, who represents himself, and the Ravens have been at a standstill for about two months. Jackson is free to negotiate a long-term contract with other teams. The catch is that the Ravens could match any offer sheet he signs.
If Baltimore should grant his trade request, Jackson would have to agree to a new deal before a swap could be finalized. Either way, the Ravens would end up with significant draft capital. Choose not to match an offer sheet, and Baltimore snatches two first-round draft picks from Jackson's new team as compensation.
The final scenario, which is my preferred path, is to trade him away, and they will get two first-round picks and more.
Regardless, DeCosta faces the most difficult decision of his career. Does he keep doing the minor home repairs, and ignore the decaying foundation, or does he take the home down and start over?
For now, Jackson is the fix for the minor repairs, as well as the solution if the home gets taken down.
If Baltimore thinks a reconciliation is within reach (I think not), they'll look to build around his manageable $32 million salary in this month's draft.
Some insiders believe Baltimore may have tipped their hand by the recent signing of wide receiver Odell Beckham Jr. on a one-year, $17 million contract. Signing Beckham, a talented but often-disgruntled receiver, serves two purposes. One, it provides Jackson with a capable and big-play target. Two, it does not put a serious dent in the Ravens' 2023 salary cap.
If a divorce is inevitable (it is), Baltimore needs to turn Jackson into assets. Assets that could lead the Ravens to finding their next franchise quarterback.
On Wednesday's podcast, DeCosta carefully answered the question regarding the possibility of the Ravens drafting a quarterback in Round 1. "It depends on the board. It really does. I mean, I'd have to say yes, because we have quarterbacks in our top 31, so based on that, simple math, I would have to say yes," said Decosta.
Back to Beckham. The big roster move appears to have the approval of Jackson. On Sunday, Jackson posted a screenshot of himself facetiming with Beckham. Judging by the screenshot, Jackson and Beckham seemed excited about the partnership and very much on the same page.
It is intriguing to me to see Jackson's willingness to share his reaction to the OBJ signing. Why? Because for months, Jackson and the Ravens have been locked in a peeing match about his contract standoff. And just recently, Jackson essentially sent Baltimore fans a goodbye letter, requesting a trade.
So, despite my belief that a trade would be in the Ravens' best long-term interest, it seems like Jackson is still very much considering himself a member of the Ravens.
Which suggests that this weird situation may still be sorted out.
Go figure.