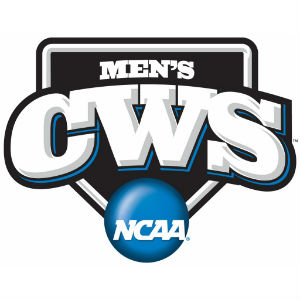 Artie Lewicki has demonstrated why it was so important for UVA that he get back into the mix in 2014. The senior righthander worked all season to boost arm strength to be able to return to the starting rotation, which he did in May for the final regular-season series at Wake Forest. He started the Cavs' NCAA Tournament opener and got the win in the 10-1 victory over Bucknell, but has since become much more valuable to coach Brian O'Connor out of the bullpen.
With Virginia trailing 1-0 in the Super Regional series with Maryland, and leading 2-1 in the sixth in Game 2, Brandon Waddell on the mound, at the end of his day, it was Lewicki who was summoned from the bullpen to get out of a two-on, two-out jam, which he did, and eventually closed out the 7-3 win.
Lewicki came in with two on and no outs in the eighth of Virginia's College World Series opener with Ole Miss on Sunday in relief of Nathan Kirby, and after allowing a sacrifice bunt and an RBI grounder got out of the inning with no further damage, setting up Mike Papi's ninth-inning walkoff.
Similar situation in the 3-2, 15-inning win over TCU on Tuesday. Lewicki was brought in mid-inning, mid-at bat, in relief of a struggling Whit Mayberry, got out of the inning, and got the win after Daniel Pinero's walkoff sac fly.
Ideally, heading into Friday night, with Virginia having a chance to win its way to the CWS Finals, O'Connor would have Lewicki on the mound in the first inning, but having already thrown four innings this week, at best he will be available for an inning or two on the back end. The lack of availability for Lewicki is made a bit more palatable by the re-emergence of Josh Sborz, who got the ball in Game 3 of the Super Regionals and didn't give it back until he'd put up seven scoreless in an 11-2 win that propelled the 'Hoos to Omaha.
The issue isn't what happens going into Friday night; it's what happens if Friday night doesn't go the way UVA fans want it to. A loss Friday night puts Virginia into a winner-takes-all game on Saturday. It's entirely possible that O'Connor could go with Kirby, even as he'd prefer to have Kirby for Game 1 of the CWS Finals. But of course there is no Game 1 of the Finals if Virginia doesn't win one more game first, so that may be the route to go.
Outside of going with Kirby, Alec Bettinger (6-0, 1.23 ERA) who has pitched just once since a start in early May against VCU, would be the best option, though Bettinger would have a short leash in what would effectively be a staff day, with all hands not named Kirby and Waddell available in that scenario.
Or maybe do you try to start Lewicki Friday night, saving Sborz for Saturday, if necessary, and see if you can get four or five good innings out of Lewicki before handing the ball to the pen? Probably not, but that is a plausible scenario, with Sborz then being more than fresh as a possible Game 3 CWS Finals option if things get that far.
All of this highlights what O'Connor said in the Super Regionals about how the country would see how deep his pitching staff is. The options that he has the next few days illustrate why this team is in this position.
– Column by Chris Graham