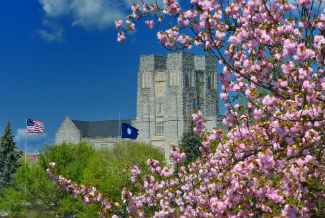 Surveying the landscape is a critical part of mapping future progress for Virginia Tech's LGBTQ+ faculty and staff. Last fall, more than 2,200 employees responded to the Virginia Tech LGBTQ+ Caucus' second climate survey, a follow-up to the first survey given in spring 2013. The group has recently begun to present the collected data across the university.
"We have an active, diverse community on Tech's campus which is committed to making campus safe for everyone," said Amanda Morris, associate professor and co-chair of the LGBTQ+ Caucus. "Surveys like this help us know where our resources should go."
Menah Pratt-Clarke, vice president for strategic affairs and vice provost for inclusion and diversity, said she was grateful for the work of the LGBTQ+ Caucus and LGBTQ+ Resource Center's effort to collect such a vast of amount of critical information.
"Their work is an important part of us becoming the welcoming and inclusive affirming community we strive to be," Pratt-Clarke said. "We're committed to continued growth in all areas and to addressing the concerns that arose from this survey."
The result of the combined efforts of University Organizational and Professional Development, the Office for Inclusion and Diversity, and the LGBTQ+ community, the survey was broken into six sections – campus climate, services, HR and policy, expression, discrimination and harassment, and safety. Respondents were asked to self-identify themselves in a variety of ways including whether or not they were a part of the LGBTQ+ spectrum.
Morris said that one of her biggest takeaways from the survey was the improvement in employee satisfaction of the Human Resources Department and its policies.
The satisfaction with family and spouse benefits rose to 90.9 percent from 66 percent among non-LGBTQ+ respondents and to 84.5 percent from 34.9 percent for LGBTQ+ employees. A question comparing benefits and services of LGBTQ+ employees to their heterosexual and cisgender counterparts saw similar growth, rising to 86.3 percent from 49.3 percent for non-LGBTQ+ employees and to 78.5 percent from 25.4 percent for LGBTQ+ respondents.
Morris credited the progress in part to changes in marriage equality and the addition of gender identity and gender expression as protected classes to Virginia Tech's nondiscrimination policy.
On the opposite end of the spectrum, Morris said the survey also highlighted some areas needing improvement, which will become priorities for the caucus.
"One main priority that came out of the survey is that people are just not aware of the resources on campus," Morris said. "We want to change that and make ourselves more visible."
According to the survey, just 10.8 percent of LGBTQ+ employees are familiar with the LGBTQ+ Caucus itself, which is down from more than 16.4 percent in 2014, and just 17.2 percent are familiar with the LGBTQ+ Resource Center.
The center, which opened in August 2016, is one of several services that has been created since 2014 and thus weren't included in the first climate survey.
Morris said she believes the caucus has already taken a step toward increasing awareness of services in the creation and inclusion of material detailing LGBTQ+ services in employee onboarding packets. She also hopes colleges and departments accept the caucus offer to give presentations about the survey results and what they mean for each particular area of the university.
Luis Garay, assistant director for the LGBTQ+ Center and advisor of HokiePride, agreed the survey showed increased face-to-face dialogs with the caucus should be a main focus moving forward.
"There are some changes [in the survey results] for the positive, but there's also some statistics that point to some not so good things that demonstrated the reality of the climate," Garay said. "We need to have critical conversations and reflections around the climate of LGBTQ+ individuals as well as other marginalized communities and ask to what extent departments, those in power there, have contributed to an environment that's not as inclusive as Virginia Tech wants to be."
Garay's desire is for those conversations to move past just simply talking and generate action plans that include measurable goals and timelines for achieving them.
"While there have been improvements in areas, there is also the reality that LGBTQ+ individuals and other marginalized communities do not feel included in this community. And, the qualitative results from the survey demonstrated the difficult experiences many have on campus and I want to uplift this" Garay said. "We as a university must work diligently to improve the climate for LGBTQ+ individuals and those marginalized within our own community."