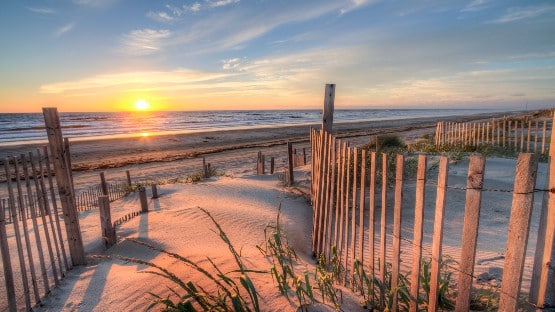 By Earl Zimmerman
Our Climate Crisis
The ocean has become an increasingly greedy neighbor, forcing parts of the Outer Banks in North Carolina to retreat more than 200 feet in the last two decades. Some beaches are now losing about 13 feet a year. Sea levels along U.S. coastlines are expected to rise as much as 12 inches by 2050, with the Southeast and Gulf Coasts seeing the most change.
The heat is on in the Chesapeake Bay. The average summer water temperature has increased about 1.8 degrees Fahrenheit since 1995. This is threatening to undo decades of efforts to restore the Bay by improving its aquatic habitat. Populations of native species like blue crabs and striped bass are declining while some southern species, such as white shrimp and red drum, are already moving into the Bay in increasing numbers.
Half of the world's glaciers could disappear by the end of the century even under the Paris Climate Accord goal of limiting global warming to 1.5°C. Current global commitments to fight climate change are projected to lead to 2.7°C of warming, which would cause the near-complete deglaciation of entire regions in Europe, North America, and New Zealand.
Europe broke heat records last year and kicked off 2023 with a record-setting heat wave. A winter heat dome descended on the continent at the beginning of the year, crushing thousands of high-temperature records. One climatologist called it "the most extreme heat wave in European history."
When scientists tagged a seal with an ocean sensor, he led them to signs of a potential climate disaster in Western Antarctica. The seal appeared just offshore, roughly half a mile below the surface of the vast oceanfront glacier called Denman. This provided early evidence that warm ocean currents are undercutting the glacier, which could be a major threat to global coastlines. If the glacier completely melts, it could raise global sea levels by nearly 5 feet.
Politics and Policy
A bill to withdraw Virginia from the Regional Greenhouse Gas Initiative (RGGI) was recently defeated in the State Senate. The Youngkin administration is, however, continuing its effort to use regulation to withdraw through Virginia's Air Pollution Control Board. To this end, they recently put the proposed regulation out for public comment. Please submit your comments in support of RGGI and your opposition to the repeal on the Virginia Townhall website between now and March 31. They need to hear that there's broad public support for RGGI.
The oil and gas industry donated millions of dollars to members of the House in the last election cycle. Eight of the top ten recipients were Republicans. House Speaker Kevin McCarthy, who received $616,563, raked in the most donations from the industry.
U.S. carbon emissions rose 1.3 % in 2022. Can clean energy get them on track with the goal of cutting them 50% by 2030? The clean-energy incentives in the Inflation Reduction Act should help by supercharging the cost advantages of renewable energy. Emissions dropped 1% in the electrical power sector and should start dropping significantly as solar, wind power, and battery storage continue to become significantly cheaper than fossil fuels.
Exxon's internal models already predicted global warming accurately in the 1980s. Their public stance, however, remained hostile to any public discussion of climate research. Their leadership and marketing team worked to create a cloud of confusion around climate change and shifted the blame from fossil fuel producers to the carbon footprint of individuals.
Ohio Gov. Mike DeWine signed a bill last month to legally redefine natural gas as a source of "green energy." The new law is anything but homegrown. The Empowerment Alliance, a dark money group with ties to the gas industry, helped Ohio lawmakers push the narrative that the fuel is clean.
The United Arab Emirates chose Sultan Al Jaber, the head of their national oil company, to be the president of the Cop28 UN climate summit in Dubai. Climate activists, angered by the decision, see this as a clear conflict of interest. Some have likened it to putting a tobacco company head in charge of an anti-smoking treaty.
Defying the federal government, the Tennessee Valley Authority recently announced that it will stick with fossil fuels by replacing a retiring coal plant with a 1,450 MW natural gas plant. Clean energy advocates are also fighting an uphill battle to push Duke Energy in North Carolina away from its plan to build 3 GW of new gas-fired power plants.
Virginia state senator Chap Peterson insists that Dominion Energy must adjust to a new political reality. For years, Dominion has lavished donations on Virginia lawmakers who crafted its regulatory structure that locked in bloated base rates and other advantages. That has to end!
Energy
This year the U.S. is on track to export more liquefied natural gas (LNG) than any other country and the industry is planning for a surge of growth over the coming years. This flies in the face of efforts to fight global warming. The fracking boom allowed the U.S. to start exporting LNG in 2016.
Germany has agreed to join a new green hydrogen pipeline project between Spain, Portugal and France. The pipeline under the Mediterranean Sea between Spain and France will carry green hydrogen, made from water via electrolysis using renewable energy.
Renewable energy is projected to be 26% of U.S. electricity generation this year according to the Energy Information Administration. The growth in renewables is coming from wind and solar power, with wind responsible for about one-third of the growth and solar accounting for two-thirds. Coal has dropped dramatically in the last decade and natural gas, which is still highest at 37%, has also begun to decline in the past several years.
The Regional Greenhouse Gas Initiative is helping Virginia lower its carbon emissions by driving down emissions from power plants by 12% annually during the last two years. This is happening even in the midst of rapid data center growth in Northern Virginia that's expected to drive a 38% increase in electricity use by 2035.
Geothermal energy is drawing fresh interest after lawmakers boosted funding for it in the bipartisan infrastructure law and the Inflation Reduction Act. While the next generation of geothermal projects are still in the early stages of development, they have the potential for a 15-fold jump in capacity in the United States by 2050.
Both Dominion Energy and Gov. Youngkin's office have included small modular nuclear reactors in their plans for future energy, but expanding nuclear is not as timely and efficient as proponents claim. Wind and solar generate much cheaper electricity. The cost of unsubsidized utility-scale solar plus battery storage is about half the cost of new nuclear reactors.
A report from an energy nonprofit indicates that we may have already hit the peak in using fossil fuels to generate electricity and are entering a period of decline. Wind and solar power are experiencing substantial growth that follows the trend lines for the early stages of transformative products like automobiles, computers, and smartphones.
An advocacy group filed a complaint with the Securities and Exchange Commission accusing the oil giant Royal Dutch Shell of "greenwashing." The company's most recent annual report claims that it directed 12% of its capital expenditure to "Renewables and Energy Solutions" in 2021. Only 1.5% of that, however, went toward developing renewable energy sources such as wind and solar power. The rest of the spending went toward gas.
Climate Justice
Even though California was inundated by unprecedented rain in January, it's too early to declare an end to the region's long-term drought. Some climatologists say the state is dealing with weather whiplash—extremes on the dry end and extremes on the wet end. The poor experience the worst of these extreme weather woes. They live in housing that was often poorly built and placed in some of the highest-risk areas for weather related disasters.
The super-rich are coming under increased scrutiny for the ways their lifestyles are baking our planet. While private jets and mega yachts are on the extreme end of the scale, cruise ships and commercial passenger planes are close behind. The 19% of adults who take more than four flights a year in the United States and Canada account for 79% of the flights taken. In contrast, just 2-4% of the global population gets onto a plane each year.
A peer-reviewed scientific study finds that gas stove pollution causes roughly 12.7% of childhood asthma in the United States. Children of color and those in lower-income neighborhoods are twice as likely to be hospitalized for asthma. Poor households are more likely to have smaller kitchens that lack proper ventilation.
A new study shows that pesticides are a key contributor to climate change. This comes from their manufacturing, transportation, and application, all the way to their degradation and disposal. Conventional farming methods don't account for such environmental externalities, while organic food is more expensive because it does. All people, regardless of income level, should be able to afford food grown without using pesticides.
Climate Action
Cities across the U.S. are taking surprising and innovative community-driven climate action. This includes a resident-centered bike-share program, radical budget restructuring, equitable home heating plans, planting trees and eliminating heat islands, recycling waste water, and creating a long-term climate change advisory committee.
A Tennessee-based utility scale solar company has an unusually holistic brand of solar development that can serve as a model for rural agricultural communities. Its self-owned projects incorporate regenerative land practices and recycle old solar panels. Instead of treating vegetation as a problem to be dealt with using chemicals and lawnmowers, it is exploring ways to graze livestock alongside and under solar panels and enhance the ecosystem.
Dine in rather than take out—it's a simple climate action that you may not have considered. Harrisonburg restaurant owners Mikey Reisenberg of Mashita, a Korean theme restaurant, and Kirsten Moore of Magpie restaurant note the economic and environmental costs of disposable silverware, napkins, sauce containers, and the bag in take out orders. Moore said. "Dine-in is so much better for the workers, the business, the craft, and the environment."
German rail and public transit infrastructure is far advanced to what we have in the U.S., even though it has some challenges. Things we can learn from them include: a.) How vital public transit is to reducing carbon emissions, b.) The justice issue of providing public transit to poor populations, and c.) The connection between dense, affordable housing and a reliable, affordable transit system.
How do we feed 8 billion people without frying our planet? One obvious answer is eating less meat. Our food system is responsible for about a third of our climate problem and most of our biodiversity and deforestation problems. Food and climate writer Michael Grunwald says we need to get over our squeamishness about high tech foods and meat substitutes. We'll need to use them to avert a climate catastrophe.
More than 90% of the rainforest carbon offsets in Peru sold by Verra, the biggest provider of carbon credits, are worthless according to a study by Cambridge University and a team of investigative journalists. This raises questions about the credits bought by internationally renowned companies such as Disney, Shell, and Gucci so they can make the claim that their products are "carbon neutral."
Earl Zimmerman is a member of the steering committee of the Climate Action Alliance of the Valley.