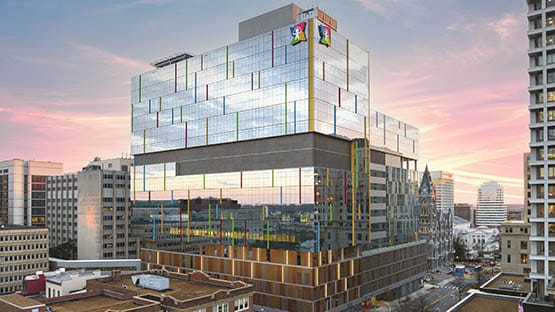 Children's Hospital of Richmond at VCU on Tuesday celebrated the ribbon-cutting for its Children's Tower, Richmond's new home for pediatric inpatient, emergency and trauma care.
Nearly 300 families, elected officials, hospital team members, donors and community partners gathered to celebrate the kid-focused, $420 million facility which will officially open on April 30.
The Children's Tower was designed for and with the help of families and providers in the community, based on extensive research into best practices in pediatric health care.
When combined with the adjacent outpatient Children's Pavilion, the Children's Tower completes a city block – nearly 1 million square feet – dedicated to caring for kids.
The 16-story building houses the region's only Level 1 pediatric trauma center and emergency department with 24/7 access to any pediatric specialist a child may need, along with family amenities and 72 all-private acute and intensive care rooms that are among the most spacious in the country.
CHoR broke ground on the Children's Tower in June 2019 as part of a comprehensive plan to address the needs of the community and state.
"I had the pleasure of attending the groundbreaking for the Children's Tower and what a difference a few years has made," Richmond Mayor Levar Stoney said. "As I watched this building rise from City Hall next door, I thought about the kids and families from our city and beyond who will benefit from the beautiful space and dedicated teams inside. Children are our future, and the future of Richmond is bright."
The Children's Tower project was completed on time, despite obstacles presented by the COVID-19 pandemic.
"The VCU Children's Tower represents a commitment to our children and communities that we're putting their needs first," said VCU and VCU Health System President Michael Rao, Ph.D. "After many years of our team's focus on addressing the needs of children in a comprehensive way, I'm so grateful that we're able to bring together comprehensive children's health services and research into the early, formative aspects of human development, including the causes and cures of disease and development. CHoR will serve children and families in Richmond and across the Mid-Atlantic and beyond, and I'm grateful to every team member and donor who helped make this a reality."
In addition to pediatric-specific operating rooms, imaging suites and trauma bays equipped with the latest advancements for optimal medical care, the Children's Tower creates a kid-friendly patient experience with added convenience. It is located one turn off Interstate 95 and offers free onsite parking, including valet for families visiting the emergency room.
Playrooms, teen lounges, a family gym, interactive installations, performance space and family lounges are among the amenities that will be available on opening day to make the environment more comfortable for kids and families.
The cafeteria offers kid-friendly dining options, including brick oven pizza, while the James River theme includes colors and animal mascots to differentiate each floor and help with navigating the building. Additional amenities will open later this summer, including a RMHC In-Hospital-House, multifaith chapel and indoor children's garden.
"The conversations around a fully kid-focused children's hospital have been taking place for many years. When I came to CHoR, I joined the group of passionate advocates dedicated to making our community's dream a reality," CHoR president Elias Neujahr said. "It seems surreal that we're now ready to bring our remarkable teams into this new space to make a lifesaving and life-changing difference for kids and families. It wouldn't have been possible without the commitment of our teams, Children's Hospital Foundation and incredible community of supporters who have worked tirelessly for the last several years. This hospital is all for our kids and it's unlike any other."
HKS was the architect for the Children's Tower with project management by JLL and construction by DPR.
Take a virtual tour at chrichmond.org/childrenstower.