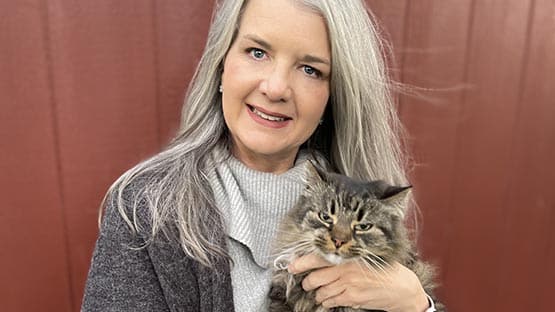 Cat's Cradle has hired its first full-time Executive Director.
Sherri Heishman, a volunteer, cat foster parent and marketing and design consultant for the organization, was selected for the position.
Cat's Cradle, a nonprofit cat welfare organization based in Harrisonburg, was able to make the hire thanks to a restricted gift from a benefactor to fund the position.
As a result, 90 percent of community donations will continue to go directly to programs and services.
Prior to the hire, Cat's Cradle operated under a working board model where board members collectively ran the organization and helped manage staff.
"Cat's Cradle has been near and dear to my heart for many years. I couldn't be happier how the stars aligned for this opportunity at this point in my career," said Heishman. "Together, with the amazing board of directors, employees, and volunteers, I strive to make an impact and give a voice to the most vulnerable cats and pet owners in our communities."
As Executive Director, Heishman will manage Cat's Cradle's day-to-day operations, which will bring long-term stability to the organization, as well as future growth and initiatives.
Cat's Cradle's mission is to ensure and maintain a safe, compassionate community for cats in the Shenandoah Valley. The organization's intent is to steadily decrease the intake of cats and kittens at local shelters and to ultimately end the euthanasia of healthy adoptable pets in the communities it serves.
For more information, visit catscradleva.org.