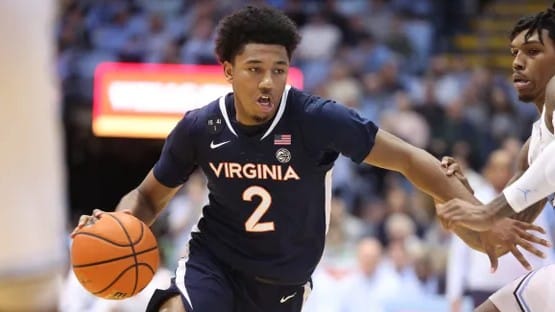 Who wants to be this team's guy?
The mid-2010s UVA teams had Malcolm Brogdon. The late 2010s teams had Ty Jerome.
Who is the guy that will take the 2023 team on his back in a tight game down the stretch?
Reece Beekman tried to be the guy in Saturday's 71-63 loss at UNC, but Beeks missed four of the five shots he took in the final six minutes, three of the misses layups, and clanked a chance at an and-one, and the front end of a one-and-one.
Beekman finished the day with eight points and six assists, on 4-of-11 shooting, and a team-worst -12 plus/minus.
Kihei Clark was a little better down the stretch, hitting a pair of jumpers and dishing out two assists in the final 3:16, but he had a key layup erased at the rim by Leaky Black with 1:22 to go, and also missed a free throw.
Clark finished the day with nine points and five assists, on 3-of-9 shooting.
Armaan Franklin at least did some things late, converting a couple of baskets in the lane and connecting from three, all in the final 1:36.
Franklin had been silent to the point of almost being nonexistent to that stage.
He finished with 14 points.
His plus/minus, 0, was the best on the team.
Jayden Garder had a great counting stats day – 19 points and 12 boards.
It's nitpicking, but eight of his points came in the opening five and a half minutes.
Gardner's game is based on him finding holes in the defense in the midrange. He's not a guy who can go get his own shot; he needs a teammate to get him free with a pick, and then to get a pass once he has an opening.
If this team is going to have its Brogdon or Jerome, it's going to have to be Beekman, Clark or Franklin, guys who can get their own shots, and create them for teammates.
Every time I think of a guy taking a team on his back, I think of Brogdon in the 2015 ACC Tournament semifinals.
UVA went on to lose that game to North Carolina, 71-67, but it wasn't because of a lack of effort from Brogdon.
Beginning with a layup at the 10:13 mark that got Virginia back to within 10, Brogdon scored 20 of the Cavaliers' next 26 points, his last bucket, with 1:21 to go, making it a one-point game.
Brogs scored 25 that night, 22 in the second half.
Beekman, skill-wise, talent-wise, should be the Brogdon for this team.
He has yet, as has been the case for going on three years now, to develop his Inner Brogdon, in terms of realizing his full potential.
As a result, this team may not reach the full potential that we saw back in Las Vegas in November.
Fun with numbers
North Carolina, coming in, was shooting 29.9 percent from three on the season.
On Saturday: UNC was 10-of-22 (45.5 percent).
The 10 makes translates to 3.5 more makes, percentage-wise, than you would expect based on season-long trends.
Round that down to three, that's nine more Carolina points from threes than you would have expected.
Pete Nance, shooting 28.2 percent this season coming in, was a perfect 4-for-4.
Puff Johnson, shooting 27.8 percent, with 10 makes on the season, was 2-of-3, both of his makes coming on back-to-back first-half possessions.
RJ Davis was 2-of-4, one of them a bank job from the wing that would have been an airball from any other angle.
Sh-tuff happens.
More fun with numbers
Tony Bennett has been trying all season to get his guards into the lane and to the rim more.
Virginia got 28 looks at the rim in this one.
And made 10.
Ten (!).
Coming in, UVA was shooting 59.6 percent on shots at the rim on the season.
You would expect just under 17 makes on 28 shots at the rim based on the season numbers.
Virginia, thus, scored 14 (!) less points on its rim runs than you would expect.
And still more fun with numbers
Seriously, the issue with free throws is beginning to get ridiculous.
Virginia was 5-of-11 at the line, with five misses in a row in the second half, one of them the front end of a one-and-one, so, might as well have been six straight misses.
The guys who shot free throws in this one, coming into the game, were a cumulative 72.2 percent coming in.
Shoot 72.2 percent today, and the team has roughly nine makes at the line.
Translating to four more points.
Do the quick math
Carolina got nine more points on threes than expected; Virginia got 14 fewer points on rim runs, four fewer at the line than expected.
UNC won by eight.
Could've been a double-digit Virginia win, with better closeouts on the Carolina threes, better finishes at the rim, and better focus at the line.