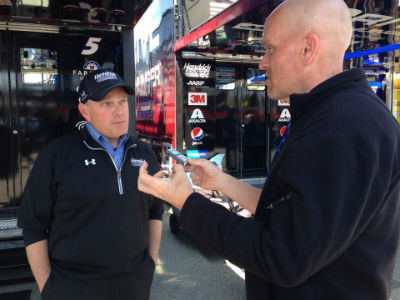 Brian Whitesell was one of the first holders of a degree in mechanical engineering to work in NASCAR. Which is another way of saying he had to drive his way into the big-time.
No, not that way.
"At that time, there were not a lot of engineers. There were very, very few in the sport at that time, so the only opportunity was to drive the transporter. That's what I started out doing," said Whitesell, 51, a graduate of Stuarts Draft High School and Virginia Tech, who got his start in auto racing in 1992, volunteering for the late Alan Kulwicki's team, which went on to win the Winston Cup.
That was the first of eight championship teams that Whitesell would be a part of. After that first year with Kulwicki, who died in an April 1993 small-plane crash, Whitesell hooked up with a rookie driver named Jeff Gordon at Hendrick Motorsports.
In 1994, Whitesell was named the team engineer, and in 1999 he ascended to the role of crew chief before taking over as team manager in 2000.
Today Whitesell serves as team manager for the Gordon and Kasey Kahne teams at Hendrick, in addition to having responsibilities for managing the gear and transmission shop at Hendrick for those teams and the teams of Jimmie Johnson and Dale Earnhardt Jr.
Hendrick is the New York Yankees and Dallas Cowboys of NASCAR all rolled into one.
"It has evolved to that," Whitesell said of the Yankees/Cowboys analogy. "But a lot of the other teams are catching up. They're seeing how we're structured, and they're evolving, and it's what's equalizing the sport, and NASCAR makes it a point of making sure that happens. And it has."
Hendrick, with Whitesell at the helm, will always be a step ahead of the pack, given his pioneering role as a college-educated engineer working in the pits and the garage to give the team every possible mechanical advantage.
"This is an engineering-driven sport," Whitesell said during a break in the action during Friday qualifying for the Sprint Cup Toyota Owners 400 at the Richmond International Raceway. "It's been nice to watch it grow through the years, and the importance and understanding of the facts, and processing those and making decisions based on that."
The job for team managers, engineers and drivers is to be on top of the various bits of data that they're getting from their cars during practice runs to make sure that they get the setup that they want for race day.
Real-time data processing and assessment is key to the process.
"It used to be a very mechanical sport where if you were a good mechanic at your local shop, you could be a very successful racer. But now it's gotten much deeper than that, where you have to be able to process a lot based on the data that you're seeing and the engineering principles behind it," Whitesell said.
Whitesell knew from childhood that he wanted to do something in racing. He thought it would be in drag racing, but money was an obstacle coming out of college, and his first job landed him in the Charlotte area. He offered his mechanical and engineering skills to the underfunded Kulwicki team as a volunteer on nights and weekends, and the sweat equity paid off with the run to the NASCAR championship that fall.
"The rest is history. It's been a heckuva ride," said Whitesell,
 – Story by Chris Graham