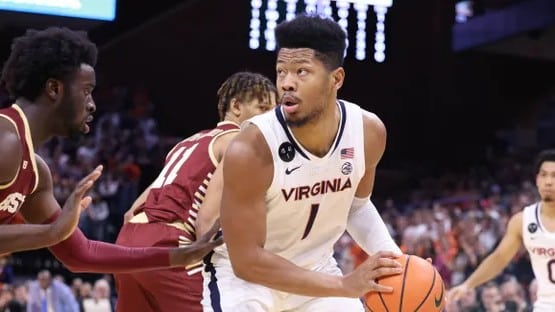 This was supposed to be the soft part of the schedule – at Louisville, which had three wins, Notre Dame at home, then at Boston College.
The first two ended up being Virginia wins, but, barely.
UVA won at Louisville, 61-58, a near-miss that stung a little less when the Cardinals upset Clemson on Saturday.
And the 57-55 win over Notre Dame wasn't all that bad, really, considering that the Irish had just played Duke to the wire in a 66-62 loss in Cameron earlier in the week.
Hey, I'm trying.
Boston College (13-15, 7-10 ACC) has the best resume of the three, with two wins over Virginia Tech, most recently an 82-76 win in Cassell Coliseum on Feb. 8 – four days after the Hokies had taken down Virginia, 74-68, in Blacksburg.
The Eagles were then surprisingly not competitive in a 92-62 home loss to NC State and a 77-58 loss at Pitt, before turning things around with a 75-69 win at Florida State on Saturday.
Virginia won the first matchup with BC, 76-57, on Jan. 28. The Cavaliers led 35-27 at the half, got the lead to double digits in the first minute of the second half, and eventually led by as many as 27 before calling off the dogs.
Jayden Gardner and Armaan Franklin each had 18 points to lead the effort for UVA.
Reece Beekman had 11 points and eight assists.
Quentin Post, a seven-foot senior stretch five, had 24 for BC, with 14 of his points coming before the first TV timeout.
Projections
EvanMiya: Virginia 68-57, 86.9% win probability
ESPN BPI: Virginia +10.9, 86.9% win probability
KenPom: Virginia 67-58, 79% win probability
BartTorvik: Virginia 66-58, 81% win probability