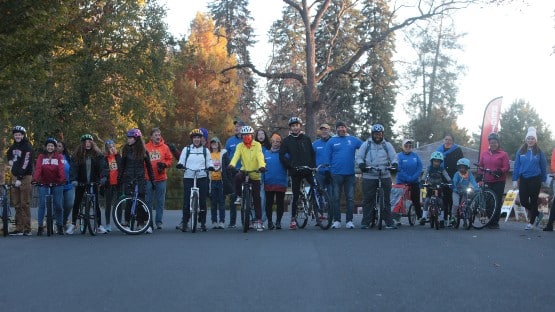 Rita S. Wilson was Staunton's first Black councilwoman.
She served the city for 17 years, starting in 1991. The city's council chambers were named in her honor in 2020.
The Wheels for Wilson Bike-A-Thon fundraiser returns to Gypsy Hill Park for a second year on Saturday, August 19, 2023. Proceeds benefit the Rita S. Wilson Memorial Scholarship, which is administered by the Community Foundation of the Central Blue Ridge.
The scholarship supports Staunton and Augusta County residents who seek to continue their education. The scholarship is open to high school seniors and adults in the workforce who, like Wilson, chose to pursue higher levels of education and new skills.
Bike riding held a special place in Wilson's heart.
"Our family had a bicycle club called Tour De Gap," Tony Davenport, Wilson's grandson and bike-a-thon event chairperson, said. "That went on for 25 years. One of the things we did as a family was we rode bicycles in different cities every other weekend. My grandmother was a huge lover of this bicycle club. This was a way for me to not just raise funds, but also to pay homage to that bike club and my grandmother's love for it."
The Office on Youth will provide the use of bicycles for any child or adult who would like to participate but does not have a bicycle. The main loop around Gypsy Hill Park will be closed off to vehicles early Saturday morning for the bike-a-thon.
"The purpose of it is to raise funds for the scholarship by people riding around the park that morning, without any vehicles," Davenport said. "It's a safe environment where we can enjoy each other and the pleasure of riding a bike in an environment where it's safe and conducive for doing so."
And it supports a great cause.
"During an orientation, I observed my child talking to his English teacher about the upcoming school year," Davenport said. "The teacher was Makeba Robinson. She was the first-ever recipient of the Rita S. Wilson Memorial Scholarship. She would eventually teach all three of my kids English."
That stoked a fire in Davenport.
"Seeing this real-world tangible impact on not only my children but the whole school system gave me the drive do what I could do to help others achieve their dream of being an educator," he said. "And what better for that than my grandmother's memorial scholarship."
Pre-registration is $10 per bicyclist, and is available online. On-site registration begins at 7 a.m. on Saturday and is $12 per bicyclist. The ride begins at 7:30 a.m. and ends at 8:30 a.m. in Gypsy Hill Park.