Sports
Ben Vander Plas, Armaan Franklin key Virginia in win at Florida State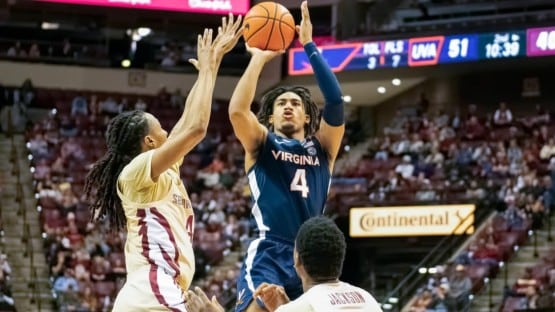 Just over a month ago when Virginia and Florida State met in Charlottesville, the Cavaliers narrowly escaped with a 62-57 win, in a game that could be described with only one word, ugly.
Virginia committed 12 turnovers while shooting just 35.3 percent from the floor and a woeful 26.3 percent from three-point range.
What a difference a month made for UVA. OK, technically about a month and a half. Today, nothing FSU did worked, and the 'Noles were no match for Virginia losing 67-58 at the Donald L. Tucker Civic Center in front of 9,043.
For Virginia, easily the story of the contest was the two-man wrecking crew of Ben Vander Plas and Armaan Franklin. The two combined for 35 points (Franklin 20, Vander Plas 15), but it was a first-half scoring spree between the two seniors that provided the separation for the Cavaliers.
Trailing 7-3 early, Virginia went on a 21-4 scoring barrage to take a 24-11 lead midway through the opening half.
After a Jaden Gardner basket trimmed the FSU lead to 7-5, Franklin and Vander Plas scored the next 22 UVA points, with each connecting on a pair of threes.
Today, Virginia protected a double-digit lead for most of the contest, shooting 45 percent (27-of-60) from the floor and an even 50 percent from behind the arc (11-of-22), while committing just six turnovers.
FSU entered the contest 5-12 overall. For much of the season the Seminoles have been a bad perimeter defensive team. In their last outing Wednesday, a loss at Wake Forest the Demon Deacons were 14-of-26 from beyond the arc.
Credit UVA for going for the jugular.
But the 'Hoos were also sharp on the defensive end as well. FSU shot only 39.6 percent from the floor (21-of-53) and made just five of 19 bonus shots.
As the game wore on, FSU simply wore out. The Seminoles' starting rotation logged heavy playing time, as all five starters played at least 32 minutes.
"Our guys seem to be pacing themselves to try to get through the heavy minutes that they've been challenged to play," said FSU coach Leonard Hamilton.
Despite the 5-12 overall mark, Florida State came into today's contest 3-3 in ACC play and a perfect 3-0 mark in ACC home games.
Virginia made life miserable for the Seminoles all afternoon.
"We got off to a real good start," Virginia coach Tony Bennett said. "Of course, making some threes and running good stuff and taking care of the ball against their switching and their pressure, we just made it difficult for them to get good shots."
FSU will next go on the road to play Notre Dame on Tuesday, while UVA will host in-state rival Virginia Tech Wednesday.