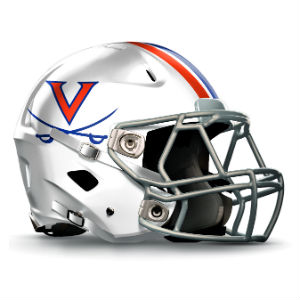 Bronco Mendenhall wants his UVA football program back on par with Virginia Tech. He might want to set his sights a little higher.
Friday's matchup in Blacksburg will mark the third game in five years in the series in which the Hokies need a win to keep their season alive.
Which, yes, Virginia Tech always win this game, and Tech has played in 25 straight bowl games, and Virginia has played in three in the last 12 years, hadn't had a winning season, until this year, since 2011, et cetera.
Get it.
Mendenhall has made beating Tech the mantra for his program in 2018, the idea being, simple, beat Tech. But next level in, if you can't beat Tech, which plays in bowls every year, had that long streak of 10-win seasons not that long ago, all that, then you should be able to play in bowls every year and win 10 games.
Which, OK, fine. But you have to start wondering now that you see Tech at 4-6 this season, coming into the rivalry game on a four-game losing streak, just 1-4 at home, that win being William & Mary, are we all thinking about the same Tech?
That streak of 10-win seasons actually ended back in 2011. Since, the Hokies have had just one, in 2016, Justin Fuente's first year in Blacksburg.
Since 2012, Tech has had gone 7-6 three times, and best-case this year is a fourth 7-6.
This is basically a .500 program right now, and the trajectory is trending downward, with Fuente's third team on life support in its quest to keep the bowl streak alive, rumblings getting louder about Fuente recruits looking to get out, and questions about the future of long-time defensive coordinator Bud Foster, a holdover from the Frank Beamer era.
Mendenhall still has a lot of work to do: first and foremost, beating Tech! And then also: stepping up the results from recruiting, which does seem to be on the uptick this year, with his 2019 class featuring four four-star recruits, and currently ranking fourth in the ACC and 26th nationally in the Rivals team rankings, which, yeah, wow.
It says a lot that Virginia has had the season it has had this year after losing its best three players on defense and its starting quarterback with their replacements being a bunch of unheralded young guys, a couple of Mike London holdovers and a JUCO transfer.
It's feeling like what Tony Bennett did to get UVA basketball turned around all over again. Remember that Bennett's third team, a bunch of young guys and one holdover from the Dave Leitao era, made its first NCAA Tournament appearance, and by year five, he had his first ACC championship and #1 NCAA Tournament seed.
That's still a couple of years down the road for Mendenhall, if it is to come, and it does feel like it's coming, but again, lot of work to do to get there.
(It's coming.)
Bennett has Virginia basketball atop a conference that is still marketed as being Duke, UNC and then everybody else, but in reality has been the UVACC for the past five years.
Maybe Mendenhall needs to set his sights higher than Virginia Tech, is what I'm getting at here.
(Ahem, Clemson.)
Column by Chris Graham