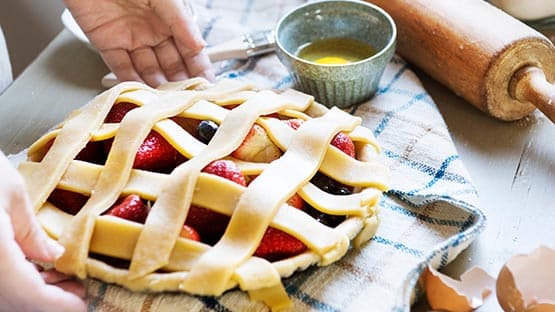 March 14 is known as National Pi Day, but WTJU 91.1 FM isn't honoring the number today, it's preparing to celebrate the sweet dessert known as pie this summer.
On June 10, the radio station will host the 2023 Pie Fest, from noon to 3 p.m. at the Stage at WTJU at 2244 Ivy Road in Charlottesville.
The Pie Fest has been on hiatus for seven years. The festival will include pie tasting from noon to 3 p.m. followed by live music from 3-4 p.m.
The event is a fundraiser for WTJU. Attendance is free, but pie tastings cost $5 for three pie samples.
"We're so happy to bring back an event that has been a feel-good favorite for so many. Pie enthusiasts: start your ovens," said Marijean Oldham, who coordinated the local Pie Fest from 2010 to 2016 with Brian Geiger.
Anyone can submit their best homemade pie entries to the Pie Festival. Pies will be judged on flavor, presentation, crust and originality/traditionality.
Bakers should register their pie(s) by May 31 online.
"WTJU enriches the culture of Virginia and brings people together. We're excited to work with Marijean to celebrate our community through food and music. Plus, we just love pie," said Nathan Moore, general manager of WTJU.
WTJU 91.1 FM has been part of the University of Virginia since its first broadcast in 1957. WTJU is a community radio station that enriches the culture of Virginia, extends the educational mission of UVA, and brings people together through excellent music and conversation. Its operations also encompass WXTJ 100.1 FM Student Radio, CharlottesvilleClassical.org, and Virginia Audio Collective podcasts.
More information about the event and pie contest details are online at CvillePieFest.com.