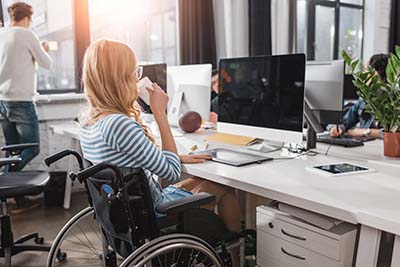 The Virginia Board for People with Disabilities awarded a $200,000 grant to The Arc of Virginia to create a campaign that increases the public's awareness of individuals with disabilities and their contributions to the Commonwealth.
The Arc will develop a series of informative videos and other how-to guides highlighting experiences and the value of including people with disabilities in inclusive neighborhoods, workplaces and communities in Virginia.
"The board is delighted to collaborate with The Arc of Virginia on this public awareness project. This campaign focuses on diversity, visibility and inclusion, and this is an exciting opportunity to educate the broader community about the beauty of diversity and how people with disabilities contribute to Virginia's vibrant and diverse communities, said Teri Morgan, the board's Executive Director. "We have the highest confidence in The Arc and its collaborators to raise awareness around this important issue."
The Arc of Virginia's Executive Director Tonya Milling said they are thrilled to partner on the campaign.
"We're thrilled to again partner with the Virginia Board for People with Disabilities," said Tonya Milling. "We look forward to working closely with them along with the Virginia Center of Inclusive Communities, local chapters of The Arc of Virginia, and statewide and local disability advocacy organizations to develop and execute a thoughtful campaign highlighting the experiences of people with developmental disabilities across the state to show the value of their inclusion in all aspects of community life."
The Arc is working with VBPD on another currently funded grant project, A Life Like Yours Alliance, to strengthen the grassroots self-advocacy movement.
"The Ally Alliance and The Arc of Virginia work tirelessly to ensure that the voices of people with disabilities are the primary force for affecting change in Virginia," said Morgan.