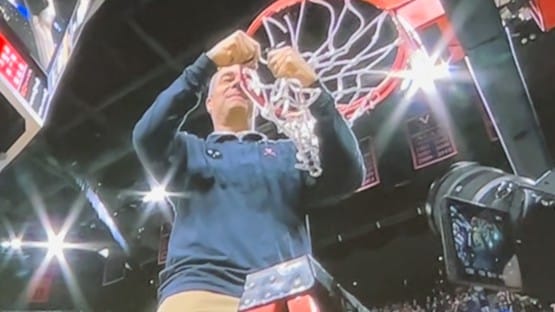 Virginia is pretty much the same team, in terms of key personnel, that it was this time last year.
The big difference being, last year's team finished its season in the NIT, and this year, Virginia was cutting down nets after its regular-season finale.
"It was special, with what's at stake," said coach Tony Bennett, who was the first to climb the ladder after UVA's 75-60 win over Louisville on Saturday that clinched the program's sixth outright or shared ACC regular-season title in the past 10 years.
The Cavaliers needed wins in their final two regular-season games to get there after losing two straight, at Boston College and at North Carolina, last week.
Bennett conceded to reporters that he'd made an "error" ahead of the BC game that he thinks took the team's focus off just playing good basketball.
"I said, Listen, you're in a race, you can win a conference championship, and, well, no kidding. I think all these guys know that," Bennett said. "You look at the thing, and it's, if you play with the quality that's needed on both ends, and guys come together, the results will always take care of themselves. And when you start thinking, Well, OK, if we get this game, do that, and you guys have been around me long enough to know that we're process-oriented and trying to be qualitative, or quantitative, and I think we just said, Whatever happens, let's pursue it the right way."
Virginia went out and laid an egg in its 63-48 loss at Boston College, then found itself down 16 at the half at Carolina, before showing signs of life, and quality basketball, in a second-half rally that came up short in the final minute.
Bennett felt after the loss at UNC that things were headed back on the right track, and with some tweaks to the offense – adding more of the mover/blocker sides sets that had been put on the backburner – Virginia looked more comfortable in its wins this week over Clemson and Louisville.
"I think the guys have had some convincing, or played solid, good basketball, last two games," Bennett said. "And now, I don't know who we'll match up with, but it's another kind of season, so to speak, with the conference tournament, and, and then, of course, the NCAA Tournament. It's good to say that because last year, we didn't get to say that."
No, last season ended with the loss in the NIT quarterfinals, and it's a testament to the players and coaches that they've spent most of this season ranked in the Top 10 nationally, given that it's largely the same roster from last year.
The core of Reece Beekman, Kihei Clark, Armaan Franklin, Jayden Gardner, Kadin Shedrick and Francisco Caffaro that returned from last season's NIT team has been augmented by grad transfer Ben Vander Plas and first-year players Isaac McKneely and Ryan Dunn.
Bennett said what stands out about this group is its focus on "saying, how can we improve individually in our games, and collectively, they've been very coachable."
"And then you know, the additions of, I think, you know, Ryan and iMac, those guys have just given us enough, and Ben, those three, sorry, but all three of those have given us a little more depth and experience, and I didn't know what to expect with Isaac and Ryan being first-years, but they've stepped into some good opportunities and battled, and so now it's, I think it's rewarding for those guys, and that's why they should feel good about it," Bennett said.
That's why, as much as it might seem silly to some to celebrate a shared regular-season championship, it's not, really.
"In a league that there's 20 games, and this league, there's so much parity, and I know we shared it with whoever it will be, but you got to last," Bennett said. "I think the league is better than a lot of people give it respect or say it is, and to be able to be one of those teams that you know, after 20 games and to get a championship, I'm very thankful. And that's a result certainly of these young men. And again, that's a goal that you want to get, and they'll get to have that put on a banner."