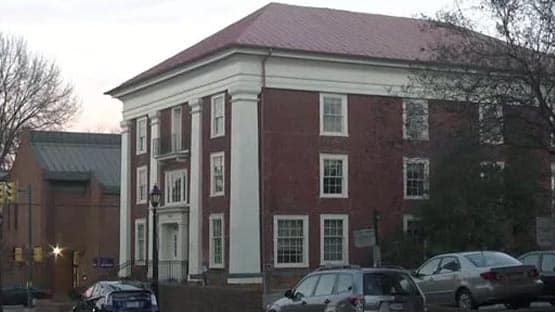 After more than 23 years of discussion, the renovation and expansion of the Albemarle County Courts Complex Project downtown officially broke ground this week on the first phase of the construction of the General District Court next to the Levy Opera House.
A groundbreaking ceremony was held Wednesday, which included remarks from several Albemarle County and City of Charlottesville officials. The ceremony also provided an opportunity for county and city representatives to dig together to commemorate the occasion, as well as speak to highlight the project's history and future.
This project includes renovations of the historic Circuit Court, renovations of the Levy Opera House building, and a new General District Court that will house courtrooms and administrative operations for Albemarle County and the City of Charlottesville.
The new building will also have secured parking with a sallyport for prisoner transport.
"The General District Court project is significant because it will create a court experience that is safe, secure and accessible for all courts users – defendants to judges." said Albemarle County Board of Supervisors Chair Donna Price. "This new building will have modern IT infrastructure that allows us to leverage the best technology to support the Courts operations – and ultimately, fulfill the mission of the Courts, for the fair administration of justice."
In the first phase of work, a two-story General District Court building will be constructed and connected to the Opera House, which will also be renovated during this phase to accommodate the County Commonwealth Attorney's office. The budget for Phase 1 is $36.8 million. The first phase is scheduled to be completed in late 2024.
The second phase of work will include the renovation of and small addition to the Circuit Court at the current historic courthouse, which is scheduled to be completed in spring of 2026.
Fentress Architects designed the facilities. Grunley Construction is serving as the construction management firm.