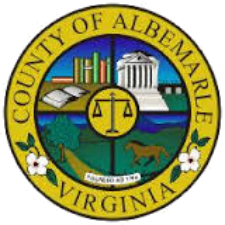 The Alberene Improvement Project, a joint neighborhood revitalization effort between AHIP and the County of Albemarle, is one of 11 statewide projects receiving funding through more than $9.5 million in Community Development Block Grants announced by Governor Terry McAuliffe late last week. The local home rehab and community preservation initiative focusing on Alberene in rural southern Albemarle will receive $855,000 in CDBG support to help approximately 30 families with critical home repair needs over two years.
In 1883, two New York businessmen started the Alberene Soapstone Company. One of the men, James H. Serene, combined his last name and "Albemarle," coining the name of the community that became home for the workers of one of the area's largest employers. Several of the homes built then are still there, along with a mix of ranch-style houses from the 1960s, 70s, and 80s.
"We are excited to restore the vulnerable homes and protect the families that are connected to a unique and little-known story of Albemarle's past," Jennifer Jacobs, AHIP executive director, said. "We are grateful to partner with the county to invest CDBG funds to keep homes safe, healthy, and affordable for our Alberene neighbors."
AHIP knew from its extensive waitlist data that there was high demand for rehab and energy-efficiency work in southern Albemarle. The two-year CDBG funding will allow AHIP and the county to carry out comprehensive rehab projects and tackle failing roofs, lack of heat, failed wells and septic systems, faulty plumbing, dangerous electrical systems, unsafe structures, peeling paint, dilapidated kitchens and bathrooms, mold, hazardous steps, lack of insulation, broken windows and doors, and more.
Additionally, all appliances replaced and weatherization upgrades will meet national EnergyStar standards. Client families being served through the Alberene Improvement Project are expected to have lower utility costs, as well as consume 10-20 percent less energy.
"Albemarle County is honored with the confidence shown by the Department of Housing and Community Development for our partnership's ability to carry out an important community improvement project," Ron White, chief of housing for Albemarle County, said. "Over the years, the County has partnered with AHIP to undertake a number of housing rehabilitation projects to improve living conditions for citizens of the County. This grant will allow the partnership to continue and bring improved conditions to 30 homes in the community of Alberene."
Work will soon be underway on projects for the first of 18 families that will receive help in Phase 1; 11 more are slated for Phase 2. The joint effort will help extremely low- to low-income families, with the 72 people included in the two-year plan earning 38 percent of Area Median Income.
"I have an old house, I love the old house. But, it's hard to keep all that up and when a house gets to be a certain age, it just needs more work," said Alberene homeowner Nancy Wray in an interview with NBC29 earlier this year. Wray's home was built in 1903, and she has lived there for 31 years. She works part time for a local nonprofit. AHIP helped Wray in December 2014 by installing a new HVAC system after a house fire left her without heat. Her home needs extensive repairs and upgrades to be safe and fully functional.
"I have some leaky roof issues. I have a bad floor in my kitchen which makes me very nervous," said Wray.
Since 1982, the federally funded CDBG program has been administered by the Virginia Department of Housing and Community Development. During this year's competitive cycle, 19 proposals were submitted by localities, totaling more than $16.5 million in funding requests.
"The CDBG program is an important resource to help localities across Virginia address community development needs by investing in projects that provide long-term security," said Governor McAuliffe in a statement released Friday, Sept. 2. "By focusing on infrastructure, downtown revitalization, and housing rehabilitation, the Community Development Block Grants enable communities to improve services and attract businesses to their area. We will continue to prioritize projects that will directly improve the lives of our citizens and move us toward our goal to build a new Virginia economy."
Since submitting the request to DHCD in March, AHIP has been actively seeking private funding partners to help more clients in Alberene and adjacent neighborhoods. Both Perry Foundation, Inc. and Twentieth Century Merchants Fund in CACF have pledged significant support, along with several local foundations and family funds.
"By attracting committed public-private funding partners as well as key collaborators, volunteers, and other stakeholders, together we become agents of preservation—not just for homes, but for the neighborhoods," Jacobs added. "We simply could not do this work alone."
About AHIP
AHIP, Charlottesville and Albemarle's home repair nonprofit, helps keep our neighbors in need safe, warm and dry in their homes. During its 40 years of service to the community, AHIP has helped thousands of families with critical home repairs—small, urgent repairs, on up to large home rehabilitations and replacements. AHIP can build a handicap ramp for a senior citizen or a replacement home for a family living without indoor plumbing—and everything in between. For more information, visit www.ahipva.org.