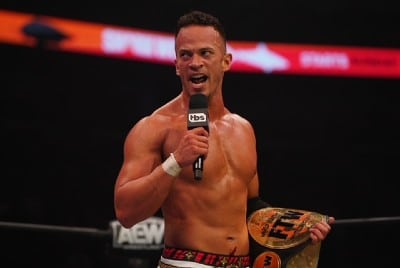 Daniel Garcia got the win of his life, pinning Bryan Danielson in the main event. Hook won the FTW title, which somehow led Ricky Starks to turn face. Jungle Boy cut a promo on Christian Cage that makes you wonder where that personality has been the past three years.
Still no CM Punk or MJF, but no matter. Tony Khan might finally be getting it.
Khan was last year's Wrestling Observer Booker of the Year, but that was mainly because the competition was a senile narcissist who couldn't be jolted from booking The Usos vs. The Street Profits week after week after week because, god love 'im, he didn't remember.
I'm still wondering about keeping MJF off TV since he dropped the hottest worked shoot promo since the Pipe Bomb, though, you might have noticed the guy in the front row with a box over his head off and on the past few weeks.
That's going to end up being somebody, and don't be surprised if the somebody ends up being revealed to be, you know.
Anyway, MJF isn't doing anything, and CM Punk, four days after winning the AEW title, culminating a nine-month chase, went down to an injury that was obviously a lot more serious than we'd originally thought.
Last night, Jon Moxley cut a promo in response to a challenge laid down by former champ Chris Jericho insisting that the "interim" no longer applies to his claim to the world title, and it's becoming clear that Punk, who reportedly shattered his foot and is struggling through rehab, won't be back for "All Out" in September, and now you have to wonder if he'll be in play for "Full Gear" in November.
A Jericho-Moxley feud for the belt isn't a bad fallback, with Jericho getting his footing as a top heel again after winning his feud with Eddie Kingston, and his new faction, the Jericho Appreciation Society, getting traction with Garcia's upset win over Danielson putting him over as a future star.
Starks, meanwhile, is set to finally get the push that he's seemed destined to get since his run as the TV champ in Billy Corgan's NWA promotion.
After a couple of years languishing in the undercard in Team Taz, Starks and Hobbs were getting some nice mic and ring time as a tag team contender, and it would've made sense for them to have won the belts in the three-way with the Young Bucks and Swerve in Our Glory a couple of weeks back.
Tag teams are usually brought together to eventually lead to a breakup and feud, and the upcoming Starks-Hobbs feud will put both guys over.
Starks, as you could see in the promo that turned him face last night, has a Rock-like vibe, and Hobbs has limitless potential as a monster heel.
The same seemed to be in the cards for Luchasaurus, who had sided with Christian Cage after the Jurassic Express dropped the tag belts last month, and Jungle Boy was given some time off to rest some lingering injury issues.
Luchasaurus was looking good as a monster heel doing the bidding of Cage, who cut a series of scathing heel promos on Jungle Boy to set up an eventual feud between the two upon his return.
What we couldn't have expected with that return was that Jungle Boy, a solid in-ring worker who seemed incapable of putting more than three words together in promos, would come back with attitude.
Last night's promo had him riffing on Cage's recent divorce, signaling the former Mrs. Cage to "call me," dismissing Cage's, er, manhood, as a cause for their marital strife.
Basically, yeah, where has this Jungle Boy been for the past three years, because this kid is money.
What's working there is, it comes across as real, Cage disrespecting Luke Perry, Jungle Boy's father, the kid responding in kind. It's two guys who know each other and now can't stand each other getting ready to settle things in the ring.
Starks, similarly, used his time on the mic to express his frustration with a lack of push, and that resonates with fans who have clearly been giving him great reactions the past several weeks.
This isn't somebody attacking a rival's rental car in the parking lot, a guy with a sword threatening another guy with a shillelagh.
It feels real.
That's when wrestling gets over most with fans.