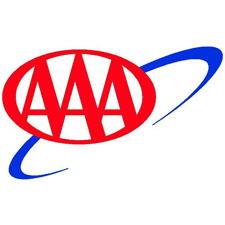 According to AAA's Automotive Research Center, at 0°F, a car's battery loses about 60 percent of its strength and at 32°F it loses 35 percent. During cold temperatures starting an engine can take up to twice as much current as needed under normal conditions.
"Each year the first couple of very cold mornings always catch unsuspecting motorists by surprise when their ever reliable car simply fails to start. AAA urges motorists to not only check their battery's age and have it tested, if applicable, but to also check other key components and fluid levels to help prevent breakdowns in the cold," said Martha Mitchell Meade, Manager of Public and Government Affairs for AAA Mid-Atlantic.
Warning signs that a battery could be failing:
Grinding or clicking sound upon ignition
Vehicle cranks slowly when attempting to start
Headlights dim when idling but brighten when the engine is revved
Battery is  more than three (3) years old
The average life span of a vehicle battery is between three and five years. Many motorists, however, may not remember when their battery was last replaced and may not know the coding system used to indicate when the battery was made.  Knowing the age of a car battery may not be as easy as opening the hood and finding an expiration date stamp like the ones found on food containers.
Vehicle Battery Age Codes and Basic Tips
Vehicle batteries are coded with the date they are manufactured and shipped.
Once installed into a vehicle, today's batteries generally last from three to five years.
Although some batteries have the actual month and year there were produced, the date stickers on others are in code. The vehicle battery date sticker is generally round with  a capital letter followed by a single digit number. Example: J1
The date sticker can be found anywhere on the battery and is not always immediately visible.
Auto technicians can test car batteries and provide a full battery health report.  Motorists can have batteries tested at one of AAA's Approved Auto Repair shops or by another reliable shop.
Vehicle batteries Battery testers can be purchased at auto supply stores and are available at variety of price levels. These testers will give motorists a basic idea of their batteries health.
The battery of a car which is not regularly driven should be connected to a battery tender/charger which maintains a fully charged battery at a constant voltage to help extend its life.
Battery terminal connections should be cleaned of corrosion and tightened on a regular basis. Terminal cleaner can be purchased or a solution of 50 percent baking soda and 50 percent water can be used.
In addition to checking car batteries, a full car winterization is also recommended. "No one wants to be stranded in the cold by a vehicle breakdown," said Meade. "Properly preparing your vehicle for winter driving is essential for the safety of all passengers and will greatly decrease the chances of your vehicle letting you down."
Winter checklist for motorists:
Antifreeze. Check antifreeze annually to ensure it will withstand the winter cold. A 50/50 mixture of coolant and water will protect against freezing.
Windshield wipers and washer fluid. Replace wiper blades if they do not clear the glass in a single swipe without streaking. Fill the windshield washer reservoir with winter detergent fluid to prevent freeze up.
Tires. Cold weather reduces tire inflation pressure, so check tire pressures frequently and maintain the vehicle manufacturer's recommended levels. Motorists should never reduce tire pressure in an attempt to increase traction on snow and ice. This does not work and leads to excessive tire wear. Motorists in areas where it snows should make sure their tires have an M&S rating, which means they provide the added traction required in snow. In areas that have heavy snow fall, using snow tires and chains during winter months provides added safety and may be required by local laws. For best results, snow tires should be fitted to all four wheels.
Belts and hoses. Replace accessory drive belts that are cracked, glazed or frayed, as well as coolant hoses that are visibly worn, excessively soft or bulging. Check for leaks around hose clamps and the water pump.