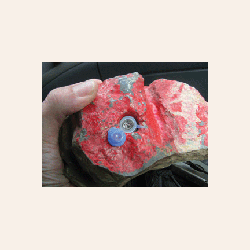 I know that I'm in the right place, because the GPS is telling me so. I'm within about 80 feet of my find, whatever that might be. And once I can figure out how to align my steps with the satellites, I'm sure I'll start to get warmer.
This was my welcome to the world of geocaching, courtesy two friends, Elizabeth Massie and Cortney Skinner, who have been engaging in the increasingly popular pastime for the past year.
"It's like a global scavenger hunt using handheld GPSs for the purpose of seeing if you can find a location based on a set of coordinates from satellites," is how Massie, a novelist, described geocaching to me.
There's an official geocaching website (geocaching.com), a book in the popular Dummies series devoted to the ins and outs of the activity, and a growing subsector of the economy devoted to not only the technological devices needed to engage in it effectively but also to the items that geocachers set themselves to trying to find.
Link to story on TheNewDominion.com.