Former candidate blogs, talks up congressional race
Story by Chris Graham
[email protected]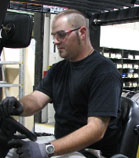 Republicans can knock off freshman Fifth District Congressman Tom Perriello in November, but it won't be easy.
The assumption among some on the right is that Perriello won in 2008 on the coattails of Barack Obama, but as Internet-radio host Bradley Rees points out, John McCain beat Obama in the presidential voting in the Fifth by a healthy margin, "and yet Tom Perriello still won by 727 votes."
Rees is a former candidate for the GOP nomination in the Fifth who is now devoting his energies to covering the race as a blogger and podcaster with a right-of-center perspective. A focal point for Rees, as he detailed in an interview on The AFP Show podcast on Monday, is moving the Republican Party nomination race to the right, a tall task with moderate State Sen. Robert Hurt appearing to be in the driver's seat at this point.
"I've said for a long time, even when I was campaigning to get the nomination to run against Rep. Perriello, that I believe that he is a man of principle, that he believes in what he says, and he votes that way, and so I have to admire him for that. And I'm looking for the same thing on the Republican side. I think there may be a few, but it remains to be seen who is the most principled out of those challengers," said Rees, who is trying to use the bully pulpit of the role that he has carved out for himself in the conservative media in the Fifth to try to narrow the field of conservative challengers to the frontrunner Hurt in advance of the June primary.
"I'm not in a position to talk to any particular candidate and say, You need to get out. That's not my role," Rees said. "I'm asking candidates to engage in some introspection, and to really take a look at where their goal is in life, and if it's really terribly important for them to be in the race, or if they could further conservative causes in other ways."
Candidate Rees dropped out of the race in October while holding out the possibility that he might run a third-party campaign. He's since pulled back from wanting to follow through with a candidacy in 2010, but he still sees a third-party campaign being not only something that could materialize, but could have a good chance at success.
"Ideological consistency and principles are a lot more important than simply getting the Democrat out of office. If it comes down to a race between Rob Hurt, who is a moderate, or Tom Perriello, who I guess for all intents and purposes is a Blue Dog Democrat, there's really some room on the right for someone to run, and to possibly not be a spoiler, but perhaps even win the race," Rees said.