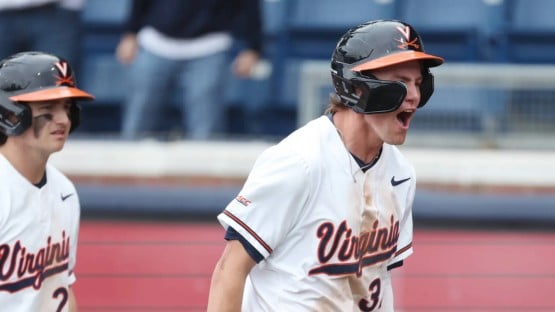 Virginia and Florida State were tied at 3-3 in the sixth. The eighth-ranked Cavaliers got a tie-breaking hit from Henry Godbout to go on top, then broke open the game with six in the bottom of the seventh, on their way to a 12-4, series-clinching win on Saturday at Disharoon Park.
UVA (21-2, 6-2 ACC) will go for the sweep on Sunday with freshman Jack O'Connor (1-1) on the mound.
The Seminoles (12-11, 3-5 ACC) have yet to announce a starting pitcher for the 1 p.m. series finale.
The big blow in the seventh came off the bat of freshman Harrison Didawick, whose two-out, three-run double gave Virginia a 10-3 lead.
Godbout, whose RBI double broke a 3-3 tie in the sixth, was 3-for-4 with a run scored, a double and three RBI in the contest.
Junior Kyle Teel also put together a three-hit performance after he went 3-for-5 with two runs scored and an RBI.
Teel upped his batting average to .467 on the season and leads the team 13 multi-hit games.
Kevin Jaxel (1-0, 1.08 ERA) got the win in relief.
Starter Brian Edgington gave up two runs, one earned, in five innings of work, allowing five hits, striking out five and walking one.