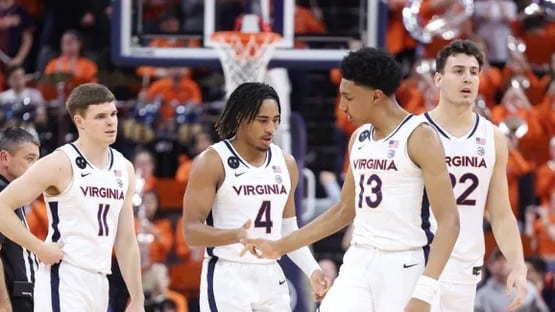 Virginia, after a rough couple of weeks, looked Tuesday night more like the team that had gotten to 21-4, defeating Clemson, 64-57, in front of a packed, nervous house at JPJ.
The Tigers (21-9, 13-6 ACC) led for the first 5:39, but UVA (22-6, 14-5 ACC) led the rest of the way, taking control with a 17-2 run over a 5:24 stretch of the first half.
Clemson, after trailing by as many as 10, closed to 28-23 at the half, but a 13-2 Virginia run pushed the margin to 14 with 12:46 remaining.
It was still 12, 57-45, after a Jayden Gardner jumper with 5:35 left, but, credit to the Tigers, they fought their way back into it one more time, getting the deficit down to four, 59-55, on a Chase Hunter three with 31 seconds left.
Virginia, which, you might have read, has been having trouble at the free-throw line of late, made 5-of-6 at the stripe in the final 26 seconds to close things out.
Highlights
Box score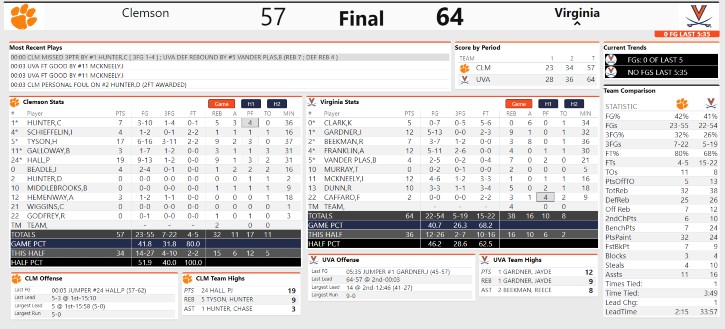 Inside the box score
Big games off the bench from the freshmen, Isaac McKneely (12 points, 4-of-6 shooting, in 16 minutes) and Ryan Dunn (10 points, five rebounds in 18 minutes).
Gardner had 12 points and nine rebounds, and Armaan Franklin had 12 points, on 5-of-11 shooting.
Reece Beekman had seven points and eight assists, and Kihei Clark had five points – all at the free-throw line – and seven assists.
Clemson's bigs, PJ Hall (19 points, nine rebounds) and Hunter Tyson (17 points, nine rebounds) had big games for the Tigers.