Malcolm Brogdon headed to the Celtics, who didn't have to give up much to get him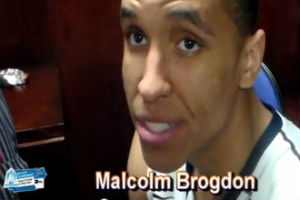 The Boston Celtics need a point guard, and are about to get one of the better ones available, Malcolm Brogdon, for an old bike, a spare tire and a case of Gatorade.
OK, Brad Stevens is having to give up a 2023 first-round draft pick, so that's not nothing, but otherwise, he's giving Indiana five role players, only one of whom, undersized 6'9" center Daniel Theis, played meaningful minutes in the 2022 postseason.
In Brogdon, acquired for whatever it was that Stevens had left over on a Walmart gift card that he found in his wallet, the Cs get what could be the final piece in the puzzle to bring an 18th NBA title to Boston.
Stevens and head coach Ime Udoka used combo guard Marcus Smart to the point and won the Eastern Conference title, but Stevens identified the point as a priority in his postseason sit-down with reporters.
"There's no question, in this league, the more guys that can make a play offensively, the better," Stevens said. "And the challenge again is making sure whatever you do around the margins of our roster, we have a unique identity, and we have uniqueness in our size and our ability to be versatile all across the board, so we have to take that into account when we are adding to our team. But if we can maintain that and add some playmaking, yeah, without a doubt, you want to do that."
For a pack of paper straws and a Sharpie, Stevens gets Brogdon, a 2016 UVA alum, who averaged 19.2 points and 5.9 assists per game in an injury-plagued 2021-2022 season in Indiana, which is in full-rebuild mode under coach Rick Carlisle, a 1984 Virginia alum.
Brogdon will have to compete with Smart (12.1 ppg, 5.9 assists/g) and Jaylen Brown (23.6 ppg, 3.5 assists/g) for minutes in the backcourt. It would appear that Stevens and Udoka might want to use Brogdon off the bench, though you can imagine a death lineup with those three, Jayson Tatum (26.9 ppg) at one through four and Robert Williams III (10.0 ppg, 9.6 rebounds/g, 2.2 blocks/g) closing things out in the final minutes.
Bringing Brogdon in off the bench could also help with his durability. Injuries have kept him from playing a full season to this point in his six-year career.
Getting Brogdon to add depth for a packet of ketchup and a travel-size bottle of mouthwash, without having to lose anybody from the Finals rotation, is a coup on the order of what was attempted on Jan. 6.
"So just to add doesn't mean that you're not taking something away from the group," Stevens had saidin his postseason wrap. "And to change significant pieces in the group doesn't mean that that might not totally take your identity and shift it in a direction that's not as successful. And so it's quite a fine line. If you ask me right now what we need, I'd like to have a little bit more scoring – consistent scoring – off the bench. I think we have some short-term needs there."