NFL
Keys to the Game: Baltimore Ravens stumble in highlight-reel loss to Miami Dolphins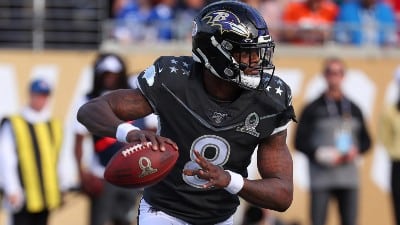 In what may end up being the NFL's game of the year, the Miami Dolphins scored 35 points in the second half and quarterback Tua Tagovailoa tied a franchise record for touchdowns thrown in a game as they defeated the Baltimore Ravens 42-38.
Baltimore had a 28-7 lead at the break and led 35-14 in the fourth quarter, but Tagovailoa's six touchdowns thrown led a truly unbelievable comeback, spoiling what looked set to a career day for Ravens quarterback Lamar Jackson.
Why the Dolphins won
Because of Tua. He may have thrown two picks, but he played out of his mind, throwing for 469 yards. He completed 36 of 50 passes and was efficient when it mattered most, including hitting Jaylen Waddle for they game-winning touchdown in the final minute of the game. The team continued to believe despite trailing for so long and came out with a huge victory that, at this stage, makes them contenders to make the playoffs.
Why the Ravens lost
Because they couldn't close the door. The defense was absolutely horrendous, letting the Dolphins' wide receivers torch them. Think about this – Waddle had 11 catches for 171 yards and two touchdowns, and he wasn't even the best receiver on the team. Tyreek Hill, who the Dolphins landed in the offseason in a trade with Kansas City, caught 11 catches for 190 yards and two scores. The visitors managed to go 7-for-11 on third downs, while Baltimore were just 3-for-10.
Game-changing moment
It was the 60-yard touchdown to Hill. It came on a second and eight from their own 38, and the throw down the field caught the Ravens' defense napping as Hill was wide open. It pulled the teams level at 35-35 with 5:19 to go in the fourth quarter. The Dolphins would give up just 42 yards to the Ravens on the ensuing drive, holding them to a field goal before the game-winning drive.
Player of the game
How can it not be Tagovailoa? He was absolutely superb, completing 72 percent of his passes. Sure, he had a couple picks, but he threw six touchdowns overall. It was a legendary performance.
Key statistic
0. That is combined turnovers and sacks allowed by the Ravens. Yet, somehow, they don't win.
What's next
The Dolphins (2-0) host the Buffalo Bills on Sunday at 1 p.m. The Ravens (1-1) visit the New England Patriots.