Big Game Preview: Can UVA football finally beat Virginia Tech?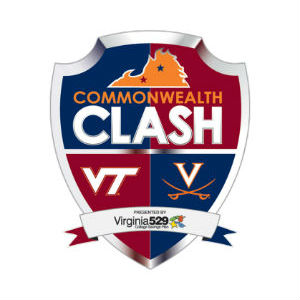 UVA is somehow favored by four at Virginia Tech on Friday, which, I get it, because on paper, the 2018 'Hoos are seven points better on a neutral field than the 2018 Hokies, who have lost four straight since that damn-lucky win at UNC on Oct. 13.
Lose that one, and the Tar Heels, remember, fumbled at the 1 up 19-14 with six minutes to go, and Tech drove the field to score the winning TD with under a minute left, and you're talking a six-game losing streak.
The Hokies are 1-4 at home this season, the win being William & Mary.
The season includes that two-TD loss at ODU, which won four games this season.
The Virginia Tech D is giving up 436.5 yards per game in 2018, 117.2 yards more per game than it did in 2017, when the Hokies also surrendered just 14.8 points per game, compared to the 31.7 points a game they're giving up in 2018.
In their last four, the Hokies are giving up 42.5 points per game and 463.5 yards per game, on the way to back-to-back-to-back-to-back double-digit losses.
And yet, you know this to be the case, that Virginia Tech expects to win this game, because it always does.
Sad reality
Until Virginia beats Virginia Tech, it can't beat Virginia Tech. You might think this statement makes absolutely no sense, but it makes all the sense in the world.
UVA has not only not beaten Tech since 2003, it has one win in its last 19 tries against its in-state rival, dating all the way back to 1998.
Virginia's 36-32 win in Lane Stadium that unseasonably warm late November afternoon was the program's eighth in 12 years against the Hokies.
Remember that classic photo of Ahmad Hawkins on his knees in the end zone after scoring the eventual go-ahead TD with two minutes left?
Nobody on the Virginia side remembers what that feels like anymore.
When these two teams match up, here's what's going through their heads:
Virginia: OK, things are going great, but when is that bad thing that is going to happen actually going to happen?
Virginia Tech: whatever, they're favored; they're going to muff a punt, or a corner is going to fall down in coverage, or the center is going to snap the ball over Perkins' head.
Credit to Bronco Mendenhall for laying down the gauntlet with his "Beat Tech" campaign, and credit to the kids in the student section at Scott Stadium for replacing the homophobic "Not Gay!" chant during the rendition of "The Good Ol' Song" after UVA scores with a hearty "F— Tech!"
That psychology is important, but I've just gotta say, I wish the Vegas folks hadn't installed the 'Hoos as favorites, because now the pressure is really on.
It's an odd place to be, for sure, road favorites in a rivalry game that your side hasn't won in 15 years.
This is akin to adding insult to injury. You've already got the pressure of trying to end a long losing streak to your rivals, but now if you lose, you also just blew a game that you were supposed to win.
On paper, yeah
This Virginia (7-4, 4-3 ACC0 team is better, and not just four points better. The D is ranked third in the ACC in total defense (326.6 yards per game) and scoring defense (20.6 points per game).
Mendenhall and offensive coordinator Robert Anae have the dual-threat quarterback – sorry, coaches, but that's what he is, and it's not insulting to say so! – in Bryce Perkins, who is third in the ACC in pass efficiency, completing 65.4 percent of his passes, accounting for 2,943 total yards and 28 total TDs.
And there are weapons: Olamide Zaccheaus is second in the ACC with 77 receptions and third in the conference with his 903 receiving yards, and tailback Jordan Ellis is fifth in the ACC with 868 rushing yards.
Virginia Tech (4-6, 3-4 ACC) is struggling through injuries and youth that has shockingly not developed as the season has played out.
QB Ryan Willis has done a nice job since taking over for Josh Jackson, who went down to injury in the loss at ODU, throwing for 1,986 yards and 17 TDs, with 6 INTs, and posting a 58.8 percent completion rate in nine games.
The season stats for the Tech offense would seem to suggest that if all isn't well, it's at least pretty OK. The Hokies are averaging 421.6 yards per game total offense, seventh in the ACC, but then the scoring offense is actually a tick behind UVA, which is scoring 28.3 points per game, 10th in the conference.
Tech averages 28.2 points per game, 11th in the conference, getting less in terms of scoreboard impact while outgaining the 'Hoos, on average, by 43.8 yards per game.
What's behind the difference isn't evident in turnover margin (UVA is +2 in 2018; Tech is +1), but is, slightly, when looking at the two teams' average starting field position. According to cfbanalytics.com, Virginia's average starting field position is its own 35, while Virginia Tech is starting drives at its own 29.
That difference is playing out in the stat line for drives that end up in the red zone. For the 'Hoos, 38.5 percent of their drives end up in the red zone; for the Hokies, it's 25.2 percent.
Starting field position is a function of your three units working as one: the offense getting first downs, your defense getting stops, your special teams being effective on punt and kick coverage and returns.
Six yards might not seem like much – and looking at the other side of the ball, Virginia opponents' average starting field position is the 27, and Virginia Tech opponents' is the 33, so, yeah, six yards – but here's how it's playing out over the course of the season:
UVA has 34 scores on 45 red-zone trips (23 TDs); its opponents have 24 scores on 28 red-zone trips (15 TDs)
Virginia Tech has 27 scores on 30 red-zone trips (22 TDs); opponents have 34 scores on 41 trips (25 TDs)
It used to be the case, in the Beamer Ball era, that you'd see Tech teams pile up points with modest total offense numbers because its defense and special teams gave the ball to the offense with so many short fields that points seemed an inevitability.
This year, the Hokies are playing football the way the rest of us not named Clemson or Alabama have to play it, and it's been tough sledding.
How this one plays out
Put different-colored uniforms and helmets with neutral logos on the two teams, and I'd say that the assemblage of talent on the Virginia sideline would be able to take care of business against the assemblage of talent on the Virginia Tech sideline.
The Virginia Tech D has been unusually susceptible to the run – allowing 208.2 yards per game in 2018; for comparison, the Hokies allowed 119.5 yards per game on the ground last season – and Virginia has been pretty good on the ground (171.8 yards per game in 2018, after averaging an ACC-worst 93.5 yards per game a year ago).
The Hokies O, for its part, has been less productive over its last four relative to its season numbers – averaging 21.3 points per game, down from its 28.2 points per game season average, and 370.5 yards per game, down from that much healthier 421.6 yards per game season average.
Significantly, that +1 season turnover margin compares to a -6 over the four-game losing streak.
There's nothing in any of these numbers that suggest Virginia Tech will pull the home upset.
There is one number, unfortunately for UVA fans, that does.
That number: 14.
Details
UVA at Virginia Tech
Date/Time: Friday, Nov. 23, 3:30 p.m.
TV: ABC (Adam Amin, Rod Gilmore, Quint Kessenich)
Line: UVA -4
Prediction: UVA 73, Virginia Tech 2
Preview by Chris Graham
Comments