The Latest Golf Odds 2023 – Compare Latest Golf Odds & Lines
The PGA Tour features nearly 50 tournaments each year and countless golf odds online. That said, you have dozens of chances to bet on this sport throughout the year. But how do you read golf betting odds and place wagers?
This guide discusses the intricacies of golf odds, including how they work, bet types, and comparisons. It also covers the best golf betting sites in terms of odds and how to get started with them.
Comparing Golf Winner Odds
Most online sportsbooks are roughly equal in terms of golf odds. But they can differ slightly on odds for various players and PGA tournaments. You can see how some top sports betting sites compare on golf betting odds for the 2023 PGA Championship below.
| | | | | | | |
| --- | --- | --- | --- | --- | --- | --- |
| Team | BetOnline | XBet | MyBookie | BetUS | Bovada | Sportsbetting.ag |
| Justin Thomas | +1200 | +1400 | +1150 | +1000 | +2500 | +1200 |
| Jon Rahm | +1200 | +1525 | +1050 | +1000 | +1200 | +1200 |
| Rory McIlroy | +1200 | +1075 | +1150 | +1200 | +900 | +1200 |
| Scottie Scheffler | +1400 | +1475 | +1250 | +1200 | +2100 | +1400 |
| Collin Morikawa | +1600 | +2100 | +1800 | +1600 | +6600 | +1800 |
| Cameron Smith | +1800 | +2500 | +1875 | +1800 | +2200 | +1600 |
| Xander Schauffele | +2000 | +1850 | +1975 | +1800 | +650 | +2000 |
| Dustin Johnson | +2500 | N/A | +1875 | +1800 | N/A | +2500 |
| Jordan Spieth | +2500 | +3900 | +1850 | +2000 | +6600 | +2500 |
| Patrick Cantlay | +2500 | +1550 | +2100 | +2000 | +350 | +2500 |
Explore Our Sportsbook Reviews
How do Golf Odds Work?
Many beginning golf gamblers are stumped by how the odds work. They may look at golf odds this week and decide to put off wagering until later because they're confused. Luckily, golf betting lines aren't as puzzling as they look at first glance. The following sections detail how the lines work and impact your potential winnings.
Explaining Golf Betting Odds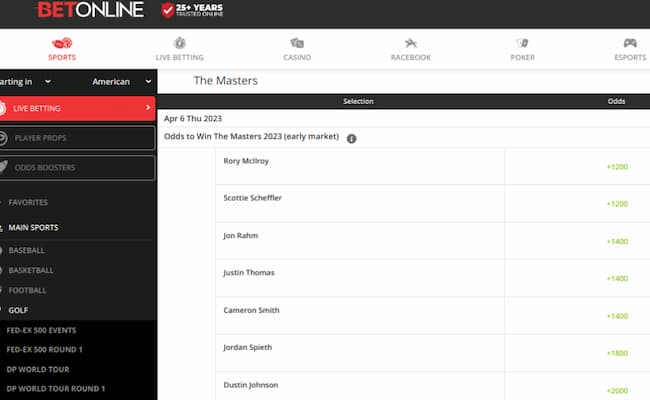 Each golfer has different chances of winning a tournament or match. All things being equal, the vast majority of bets would go towards players with the highest odds of winning. After all, few would risk their money on the underdogs when getting the same odds from favorites.
Sportsbooks solve this problem and spread betting action more evenly through odds. They attach different odds to the favorites and underdogs to encourage bets on more outcomes. Here's an example from BetOnline's 2023 Masters:
Rory McIlroy +1200
Dustin Johnson +2000
Both of these outcomes include elite golfers who are capable of winning The Masters. However, most bettors would slightly favor McIlroy over Johnson. Bookmakers make Johnson a more-attractive prospect by giving him longer odds and paying more if he wins (explained next).
How to Read Golf Betting Lines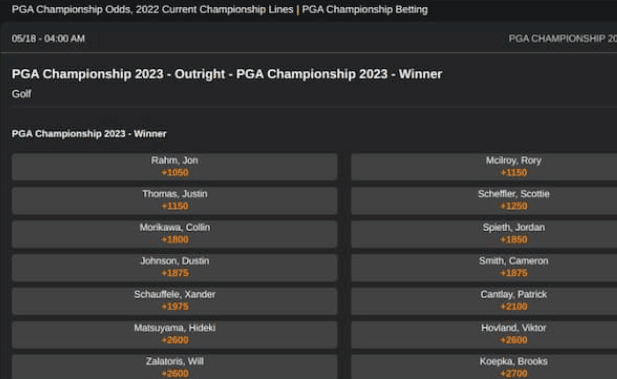 Now that we've explained the why behind betting odds on golf, it's time to go into how they work. Golf betting lines determine how much you stand to make with any given bet.
North American-facing sportsbooks use American odds, which come in multiples of 100 and include plus or minus signs. A plus sign (+) indicates that you'll earn more money than you bet on a win. A minus sign (-) shows that you'll win less funds than you wager. The following example uses MyBookie's 2023 PGA Championship odds:
John Rahm +1050 (betting $100 to win $1,050)
Rory McIlroy +1150 (betting $100 to win $1,150)
Scottie Scheffler +1250 (wagering $100 to win $1,250)
Collin Morikawa +1800 (wagering $100 to win $1,800)
You don't have to bet $100 in any of these instances. You could instead wager $20, for example, and try for a smaller win. American odds only rely on $100 multiples for simplicity purposes.
Types of Golf Odds Available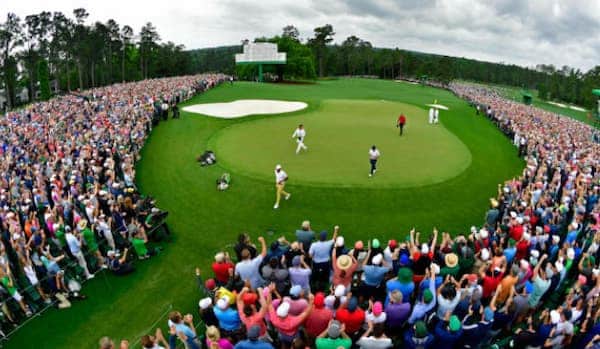 The golf betting world features a variety of bet types between match odds and futures. You can see the different golf betting odds below and get an idea on what you're interested in.
Match Odds
Many of our examples involve tournament fields, where the odds on all participants are long—even top players. After all, a pro needs to beat over 150 players in the average PGA Tour event. Therefore, American odds with plus signs are common for golf tournament odds.
You will see minus signs, though, when dealing with match play and certain other golf propositions. Here's an example that pays back less on Patrick Cantlay than the wager amount:
Tony Finau +110 (betting $100 to win $110)
Patrick Cantlay -132 (wagering $100 to win $132)
Moneyline
You shouldn't have much trouble understanding moneylines because they've formed the basis for all our examples thus far. A moneyline uses American odds to determine how much money it pays for each outcome. You can see a golf moneyline below:
Viktor Hovland -139 (betting +139 to win $100)
Adam Scott +115 (wagering $100 to earn $115)
Spread
Spread betting isn't overly common in golf, but it's still present to some degree. It especially comes into effect regarding match play between two pros. A spread assigns a handicap to each golfer, who must cover their given handicap for a winning wager. Here's a sample golf spread bet:
Joaquin Niemann +1.5 (-125)
Sungjae Im -1.5 (-105)
You need Niemann to lose by one stroke or less for a win (pays $100 for every $125 bet). You'll need Im to win by two strokes or more for a successful bet (pays $105 for every $100 risked).
Totals (a.k.a. Over/Under)
Like spreads, totals also aren't overly common in golf. They do pop up in some instances, though, such as with prop bets involving golfers' round scores. Totals requires you to wager over or under the given line, such as in the following example
Jordan Spieth 1st round score
Over 68.5 (-110)
Under 68.5 (-110)
Prop Bets
Golf prop bets revolve around outcomes other than a tournament or match result. Sportsbooks get really creative with prop wagers, making for some interesting wagers. You can see a sample prop bet below:
Will a playoff decide the winner of the British Open?
Futures Odds
Futures bets differ from match/tournament wagers because they involve outcomes in the distant future—not golf odds this week. Many betting sites offer futures on majors and other tournaments months in advance. These wagers are fun for those who don't mind waiting to see if a bet pays off.
Tournament Winner (a.k.a. Outrights)
PGA Tour tournament fields often feature between 132 and 156 players. With a tournament winner bet (outright), you wager on which player will win a particular event. Betting sites usually slim down the available wagering options to the top 40-50 players. You can see an example of BetOnline's 2023 US Open futures in the pic below.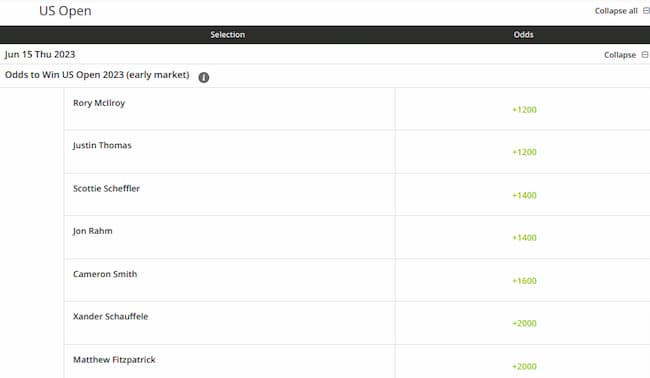 Major Winner
As you may know, Majors are professional golf's most-prestigious tournaments. They include the US Open, (British) Open Championship, PGA Championship, and The Masters. Majors futures are the same as with any tournament (outright), but they carry more prestige. The following graphic shows BetUS futures on the 2023 PGA Championship.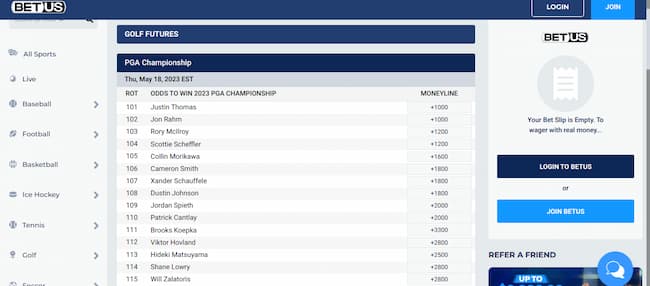 Team Winner
Pro golf isn't much of a team sport, but it can include team-based competitions. The Ryder Cup is the best example because it pits Team USA vs. Europe. You can see how team golf odds work in the following pic.

Golf Parlay Odds
You wager on one outcome at a time with most golf bets. Parlays differ, though, because they require you to put multiple outcomes on the same ticket. You must win all selections for a successful bet, while just one loss will cost you the wager. Here's a sample on golf parlays:
Justin Thomas 1st round score: Over 68 (-110)
Collin Morikawa to win match (-110)
Rory McIlroy to finish top 10 (+125)
Payout for winning this 3 "team" parlay is 7.2-to-1 ($720 for every $100 wagered)
Golf parlays aren't easy wagers, even for the most skilled bettors. But the risk can be worth the reward when considering the larger payouts.
Live Golf Odds
Live betting provides short-term outcomes that pop up in the middle of tourneys and matches. The most-common live golf odds involve updated bets on winners. For example, a sportsbook might offer updated odds on a tournament winner halfway through round four. Here's an example:
Winner of Open Championship
Matthew Fitzpatrick -5 strokes (-155)
Cameron Young -3 strokes (+125)
Corey Conners -2 strokes (+170)
You have to act fast with these wagers because live golf odds come and go. If you see an attractive proposition, you'll likely only have a few minutes to bet on it.
How to Sign Up and Find the Best Golf Odds
Many online sportsbooks provide betting odds on golf, and most have an easy registration and deposit process. You can see just how easy it is to sign up and deposit at BetOnline through the following steps.
1. Select the Join option on the homepage
BetOnline and all of our other partners are compatible with desktop and mobile devices. You can start the signup process by visiting their website and choosing the Join option.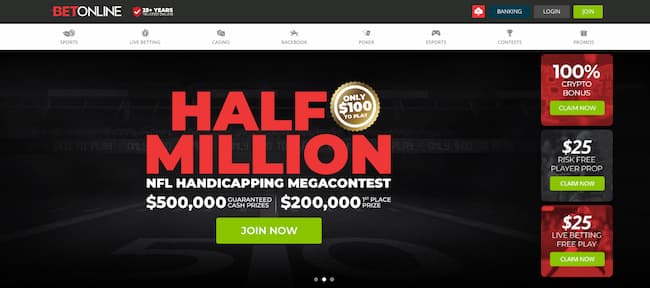 2. Fill out the Registration Form
Each online sportsbook requires you to register before depositing and placing bets. Therefore, you'll need to enter all necessary information and submit the form.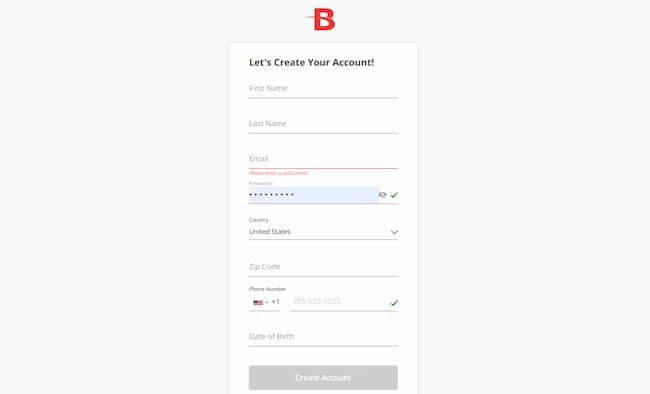 3. Choose a banking option and deposit
Many betting sites feature around a half dozen deposit methods. You need to select one of these banking options to fund your account.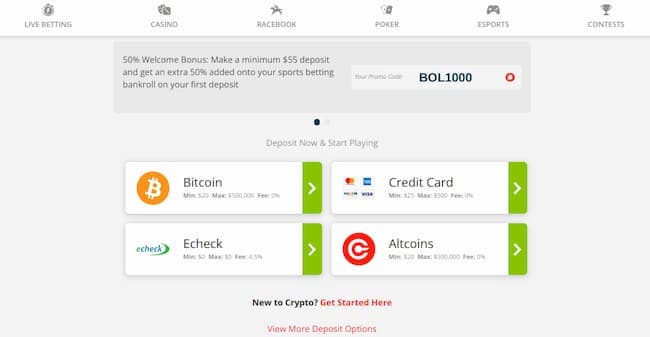 4. Visit the sportsbook section and look for golf odds
Once you have funds, you can visit the sportsbook area and choose the golf category. A list of available odds and bet types will pop up afterward. You can then select wagers and add them to your betting slip.

Past Masters Golf Champions' Odds
Past trends can be helpful when choosing attractive golf odds. Using the Masters, for example, no pre-tournament favorite has gone on to win at Augusta within the past decade. On the other hand, no player with greater than +5000 odds has won this Major in the same time span. You can check out past Masters champions and their pre-tourney Vegas golf odds below:
| | | | |
| --- | --- | --- | --- |
| Season | Champion | Pre-tournament Odds | Score |
| 2022 | Scottie Scheffler | +1800 | -10 |
| 2021 | Hideki Matsuyama | +4600 | -10 |
| 2020 | Dustin Johnson | +950 | -20 |
| 2019 | Tiger Woods | +1400 | -13 |
| 2018 | Patrick Reed | +4000 | -15 |
| 2017 | Sergio Garcia | +3000 | -9 |
| 2016 | Danny Willett | +5000 | -5 |
| 2015 | Jordan Spieth | +1000 | -18 |
| 2014 | Bubba Watson | +2000 | -8 |
| 2013 | Adam Scott | +2500 | -9 |
The Best Sportsbooks for Betting Odds on Golf
Golf is one of the world's most-popular sports, and it's available at many mobile sportsbooks. That said, you don't need to look far to find an online bookmaker with golf odds. But which betting sites are the best? We've reviewed dozens of online sportsbooks and their golf markets to bring you the top bookmakers.
Explore Our Sports Betting Guides
FAQs
How do odds work in golf?
What does +800 mean in golf odds?
What are live odds in golf?
How do top 10 bets work in golf?
What are the odds of breaking 80 in golf?
What are the odds of getting a hole-in-one in golf?