Salem shuts out P-Nats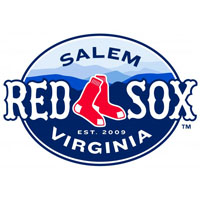 On most nights, two home runs from one of the premier power-hitting prospects in the organization would headline a recap. But Bryce Brentz' pair of solo blasts were overshadowed by the mastery of lefthanded starter Chris Hernandez, who required just 70 pitches to deliver seven scintillating scoreless innings in Salem's 3-0 shutout victory over Potomac on Tuesday night at LewisGale Field. Hernandez' remarkable command manifested itself in needing ten pitches or fewer in five of his seven frames, improving his record to 10-5 and shrinking his ERA to 2.50, fourth-best in the Carolina League.
After a five-pitch, perfect first set the tone, Hernandez received some early support from Brentz' powerful bat. The Salem slugger mashed a 3-2 delivery from Sammy Solis into the stratosphere, clearing the left-field fence with ease to give the Red Sox a 1-0 lead. Two innings later, Brentz repeated the feat, vaulting a 1-0 pitch beyond the wall for his second bomb of the game, his 13th in the Carolina League, and his 24th overall for the season. It was the first time in Brentz' pro career that he belted multiple long-balls in the same contest.
The latter homer gave Salem a 3-0 edge because of Miles Head's trigger triple in the inning prior. Head opened the frame with his first three-bagger in a Salem Sox jersey and scored two pitches later on Jorge Padron's sacrifice fly to left field. With single runs in the first three innings, the Red Sox' 3-0 advantage would be plenty for Hernandez and a pair of relievers to protect.
Hernandez retired 18 of the first 19 he faced over six innings, with the only blemish coming in the top of the second. With two outs, Zach Walters, making his P-Nat debut, singled into center-field. But Hernandez struck out Sandy Leon to end the frame, commencing a stretch of 13 consecutive Nationals set down in order.
Jeff Kobernus drew a leadoff walk to begin the seventh, but Destin Hood immediately grounded into a 5-4-3 double play, the ninth and tenth outs obtained via ground-balls by Hernandez. The former Miami Hurricane lefty struck out five and recorded six air outs, retiring 20 of the 22 batters he faced over seven sterling innings.
In relief, Mitch Herold and Will Latimer each dealt scoreless innings from the Salem pen, with Latimer closing the door in the ninth to earn his sixth save. Nationals starter Sammy Solis was solid over seven frames himself, but suffered his second loss, falling to 4-2.
Though Brentz led the Sox offense with a pair of round-trippers, Head, Padron, and Kolbrin Vitek each mustered multiple hits, with Vitek connecting on a pair of doubles in his last two at-bats. The Red Sox out-hit the Nationals 9-2 on the night.
Salem and Potomac will continue their three-game series on Wednesday night, with Stolmy Pimentel scheduled to face Paul Demny in the middle-matchup, set for 7:05 at LewisGale Field.

Comments