Ty Jerome brings outstanding skill, size and smarts in the late first round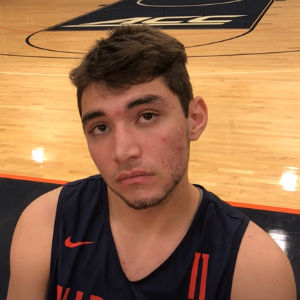 Ty Jerome declared for the NBA Draft and will hire an agent, he announced Monday, officially ending his college career after three seasons.
Though his time in Charlottesville is over, Jerome should have plenty of high-level basketball ahead of him. Projected as a late first- or early second-round pick, Jerome has a lot of attributes that should lead to a long professional career.
In an NBA landscape obsessed with shooting threes or getting to the basket and settling for as few mid-range jumpers as possible, Jerome fits the bill perfectly. Per Hoop-Math.com, Jerome shot nearly half (48.4 percent) of his shots from three, and he converted at a very good 39.9 percent clip. He also got to the rim at a reasonable rate, taking 18.8 percent of his shots from that area. He converted 62.3 percent of his shots there.
Jerome is also a wonderful passer. He averaged 5.5 assists his junior season, the first player ever to reach that mark in Bennett's 10 years at the helm in Charlottesville. Those numbers would have been higher if not for Virginia's plodding pace: Jerome finished 49th in the nation in assist rate and first in ACC play. He is the only player in Virginia program history to average over six assists per game in conference action.
Jerome does that all while being exceedingly good with his ball security. Despite a sky-high usage rate and the ball ending up in his hands late in shot clocks often, Jerome averaged just 1.6 turnovers this season. He is a phenomenal decision-maker who often makes things happen late in the shot clock. Jerome's ball-handling ability allows him to probe into the paint, where he can either finish or find perimeter shooters with a pinpoint pass. He hit a lot of big shots and made a lot of passes that led to big shots in his time as a Cavalier.
He also adds a lot to the floor as a leader and floor general. Jerome is an emotional player, perfect for setting a home crowd into a frenzy or quieting a raucous away arena. His intangibles are off the charts. They can't (and won't) be measured in pre-draft workouts, but they'll be on display any time an NBA coach or scout or front office member watches his game film or meets with him in person. Jerome's a coach's son, and it shows. That he was coached in college by a coach's son shows, too.
Of course, no prospect is perfect, and Jerome is certainly no exception. For as good of a college player as he was, there's a reason he's not projected to be picked until about halfway through. The biggest reason is his athletic skill set. Jerome isn't one of the quickest guards. He makes up for that with extreme basketball smarts, great understanding of angles and an ability to draw contact late in the shot clock. But his quickness is a downfall in his draft profile, and that will show in his pre-draft workouts. Unfairly or not, it will cause him to slide.
He's not a finisher at the rim, either. Again, Jerome made up for his lack of leaping ability with an outstanding array of floaters, fadeaway jumpers and layups over smaller defenders as well as the vision to make a pass when the shot wasn't there. Those skills will still show at the NBA level, but it still doesn't help his draft stock.
Jerome does a ton of things well. He uses his skill, size and smarts to overcome the athletic limitations he may have. He plays an "old man's game" — one that, because it doesn't rely heavily on athleticism to stay effective, will allow him to play at a high level for a long time. He's an emotional leader who rarely makes mistakes, and an NBA training regimine will certainly help him become stronger and more explosive. In a league that's constantly focused on becoming faster and more athletic, Jerome can provide calmness while still playing at a highly skilled level.
There's a pretty clear upper echelon of point guards in this year's draft. Ja Morant of Murray St. is the clear-cut top choice. Following him is Darius Garland, a former Vanderbilt standout who saw his season cut short by a knee injury, and North Carolina star Coby White.
The next group of point guard prospects includes Jerome and his Elite Eight foe, Purdue flamethrower Carsen Edwards. In CBS Sports' latest mock draft, those two round out the five point guards drafted in the first round. Gary Parrish is high on Jerome, sending him to Boston with the 20th overall pick. Other mock drafts have him falling out of the first round entirely.
The next months will be important for Jerome's draft stock, but he's certainly carrying great momentum right now after a terrific season that concluded with a championship. Jerome will work hard to improve his athleticism, and though that may hurt him in pre-draft workouts, his terrific basketball I.Q. and his positive intangibles will certainly help how NBA teams evaluate him. Jerome's work ethic is outstanding, too. When he arrived in Charlottesville coming off double hip surgeries, it was hard to imagine he'd turn into an NBA player, much less someone who leaves college early to become one. Yet here he is. His ability to make said decision is well-earned.
In recent years, Virginia has had significant success with players whose knock at the next level was their athleticism, or lack thereof. Malcolm Brogdon, the ACC Player of the Year, fell to the second round but has developed into a vital part of one of the league's best teams, the Milwaukee Bucks. Joe Harris, also an early second-rounder, has turned into one of the league's premier three-point shooters for the up-and-coming Brooklyn Nets. Jerome could very much be next in line to join those players, originally evaluated as too slow or too unathletic, to become key cogs of a successful NBA franchise.
Story by Zach Pereles
Comments