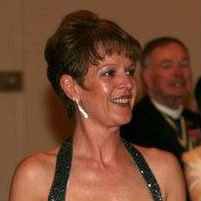 Column by Linda R. Jones
The past two weeks I've been sitting peacefully, nestled in a lavender wingback chair, every morning in front of our Christmas tree.  It's quiet and no one is up but me and the dogs.   Each ornament reminds me of a specific Christmas, especially those made by my children.  I sit and reflect on Christmases past as I look at our tree decorated with family ornaments.   I think of the Christmases my father spent with me and my family and I start to laugh.  My father was a funny man and there was always a story.
I started keeping Christmas memories books since 1998.  Two Christmases stand out for me with my father.  The first Christmas my father spent with me and my family was in 1999.  I wrote in my book how I so enjoyed my father appreciating and enjoying our traditions.  We had combined German, American, and a sprinkle of British culture.  British because that was the year I discovered the fun with Christmas Crackers.
That year we also took the Frontier Culture Lantern tour and it was so cold.  One re-enactment included a reenactor, leaning out of the second story window, asking what we were doing.  My father yelled, in his accent, "Open the door and let us in.  It's cold out here!"  I'm certain the reenactors had to improvise the script but we were all let in.  In that house, reenactors were dancing.  They randomly pulled visitors from the crowd to dance with them and, of course, my father was one of them.  I think he always had that look of, "I'm in for some fun."
The other Christmas that will always stand out in my memories is 2003.  We chose to celebrate Christmas twice in December!  Celebrate we did and a classic story was about to unfold.  That year my son was able to get two weeks leave from Iraq for the first two weeks in December.  My father was excited that his grandson would be home and was eager to spend time with him.  It was no inconvenience for my father to drive from Florida to Virginia for Christmas Part 1, then to New York and back to Virginia for Christmas Part 2.
Christmas Part 1, with all the fixings and trimmings, was celebrated on December 14th of that year.  It truly felt like the "real" Christmas with the smells of traditional food, libations, decorations, a tree with gifts underneath, and snow; a lot of snow.  Christmas just seems so much more festive with snow.  The beautiful story could end here but it won't because my father and son would embark on their classic tale the following day.
The libations picked up again the evening after Christmas Part 1.  My stepmother was getting annoyed with the celebrating.  My father started to sing his version of Brahms's lullaby to her in his thick German accent while pretending he was playing a violin: "Go to schleep.  Go to schleep."  Every time my father sang was a cue for my son to slip his Opa another beer.  And so this continued until none of us could stay awake anymore except my father and my son.  My son retold the story in the morning with my father standing behind him laughing.
"So this is what happened, Ma.  We ran out of beer.  I asked Opa if we should get more and he said sure, why not.  I was going to drive."
More laughter from my son.
"Opa said we should walk.  Ma.  Do you see how much snow is out there?  I thought to myself if my old Opa can walk this then I'm not going to be showed up."
More laughter from my father.
"I don't know how we got there or back I just remember standing in the beer aisle and Opa said since I'm the strong Army guy I had to carry the case but he would buy it."
Then, the onslaught of laughter from both my father and son.
I have a picture of the two of them with beers in their hands pre-adventure.  I display it proudly in my parlor.  The frame reads, "The Boys are Back in Town."  Every Christmas, we all reminisce on this tale.  I should add some festive Christmas decorations around that frame.
Christmas Part 2 we celebrated on the 24th and 25th of December, without my son who was then back in Iraq.  This year we celebrate Christmas without my father, but the memories help me get through it.  I will revel in the joy of the wonderful family I have with me now.
My healing journey continues.  Join me.  Continue to make Christmas memories.
(Henry Alfred Rudolph.  Born April 2, 1930.  Died March 2, 2015.)