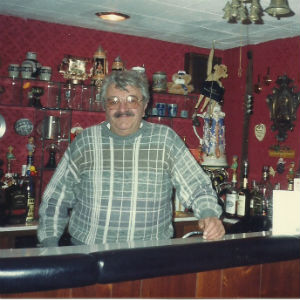 Column by Linda R. Jones
I was doing fine this year leading up to Father's Day.  It was going to be all about my husband.  My daughter started coordinating with her brothers on what gift to get for their Dad.  I even planned a great gift and had it ready well ahead of time.  Honestly, I wasn't thinking about my father.  This is the second Father's Day without him.  Then a Facebook memory popped up and I was flooded with memories that made me cry for a few days.
It was Father's Day 2014.  I had been trying to reach my father since the night before.  He finally called me back later in the day on Father's Day.  He had been out with his last girlfriend (a heinous wanna-be gold-digger) just having a good time.  I was so happy to hear his voice.  That's what I posted.  Happy Father's Day to me.
I remember that day well.  I had been working at my aunt's restaurant.  I told my aunt I couldn't reach my father.  She said, in her German accent, "Ach Linda.  You know your father.  He's out somewhere getting lit."  I went on to say I was worried about him and that I didn't understand why he wouldn't move in with me.  My friend walked in.  I went rambling on about how much I missed my father and then I started to cry.
I looked at my friend.  I was so ashamed.  She was smiling yet holding back tears.  Immediately I said, "I'm so sorry.  My father is alive.  You will never be able to call your father again."  Her father died at the young age of 61 on August 22, 2013.  His name was Lajos.  He too was loved by his little girl.  She missed him terribly.  I think we all hugged one another.  I'm not a hugger but it was necessary then.
Now I share the loss of a father with my friend.  We understand.  She was one of the first ones to reach out to me when my father died.  She's helped me through my grief.
Since that Facebook memory popped up, I've been haunted with odd coincidences.  The song "Nessun Dorma" has been playing.  A little girl sang it so beautifully on the show America's Got Talent.  I have that song on my playlist because my father could sing it in Italian.  It always brought tears to my eyes before my father died and most certainly now.
We've had thunderstorms recently that always left a unique smell for me when they passed.  Every time it smelled like the Rhine River.  It was comforting.  We used to stay at my uncle's cabin on the Rhine River in Germany so many times.  I couldn't figure out why the aftermath of storms suddenly reminded me of happy times with my father and family.
Music gets stuck in my head.   I've had "You're gonna miss me when I'm gone" playing on repeat in my head.  I catch myself singing the chorus.  When I think I'm starting to lose my mind, I run into people who also have lost their parents.  It's the same for everyone.  Memories come flooding back and you always think about them.  Some days are rough but on other days you can smile even laugh.
Today I won't be sad.  I will focus on making this a special day for my husband.  He is an excellent father and deserves to be pampered.  I'll think of my father, of course.  This year I can picture him healthy, happy, and carefree.  He's probably hanging out with Lajos.  They both enjoyed a good glass of red wine.
My healing journey continues.  Join me.  Tell me about your father.  Happy Father's Day to them all.
(Henry Alfred Rudolph.  Born April 2, 1930.  Died March 2, 2015.)